Best Himalayan Treks to Get Your Adrenaline Pumping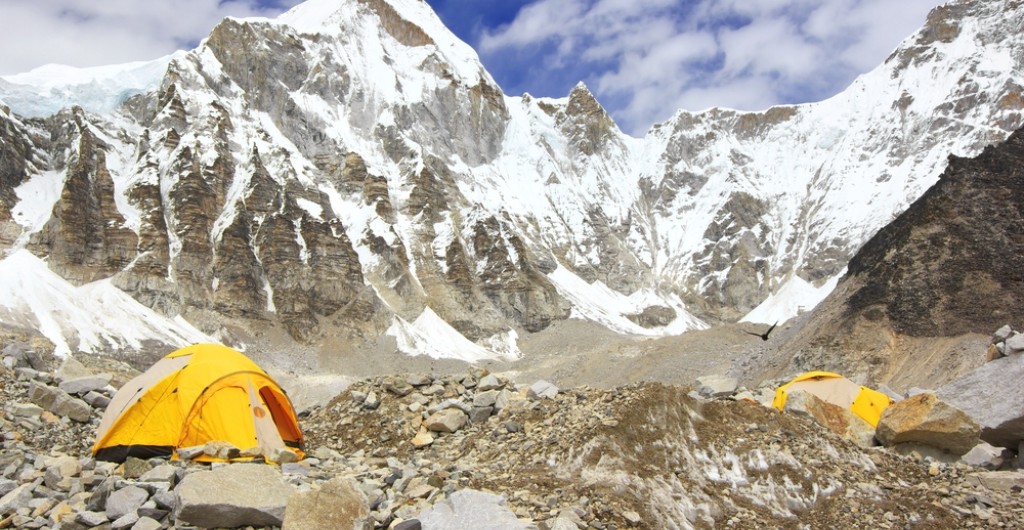 I am an engineer by education, but a blogger by choice. With a keen interest in portrait and nature photography, I never forget to carry my DSLR when on an outing or celebrating special occasions with dear ones. In free time, I love to read and write blogs, or stay busy with my kiddo.
Is it even scarcely possible to pinpoint exactly what actually drives hundreds of trekking enthusiasts to the great Himalayan Mountains, every year? Probably not! There are far too many facets to it that even posing such a question may seem preposterous. The mighty Himalayas have intrigued mankind since time immemorial and continue to do so, even today. Like a sage in deep meditation; aloof from the worldly pleasures, these mountains represent, as a painter would like to put it, a picture of calmness and stillness. However, it is a far cry from reality as these peaks pose several challenges for those who try to conquer their heights. But an adventurer would never mind such a scenario, and would actually thrive on it. No wonder, trekking in the Himalayan region is such an adrenaline pumping activity for adventure enthusiasts. Here we look at some of the most popular and the best Himalayan treks that have charmed these enthusiasts from decades.

ROOPKUND
If you are a novice trekker but a daredevil at heart, then nothing can boost your confidence more than a trek to Roopkund in Uttarakhand. With an elevation of approximately 15700 feet, it is almost equivalent to the highest summit in Europe – Mont Blanc! This mountain trail has everything that one can expect from a Himalayan trekking experience – vast meadows, dense forests (oak in this case), snow land and astounding vistas of nature. This expedition would give you an opportunity to witness the majestic Trishul Mountain from a close distance, and admire the beauty of Bedni Bugyal and Ali Bugyal – the largest high altitude meadows in India. Time and again many trekkers have expressed that going on an expedition to Roopkund has been among their most cherished adventure experiences. The duration of this trail is for 8 days and 7 nights.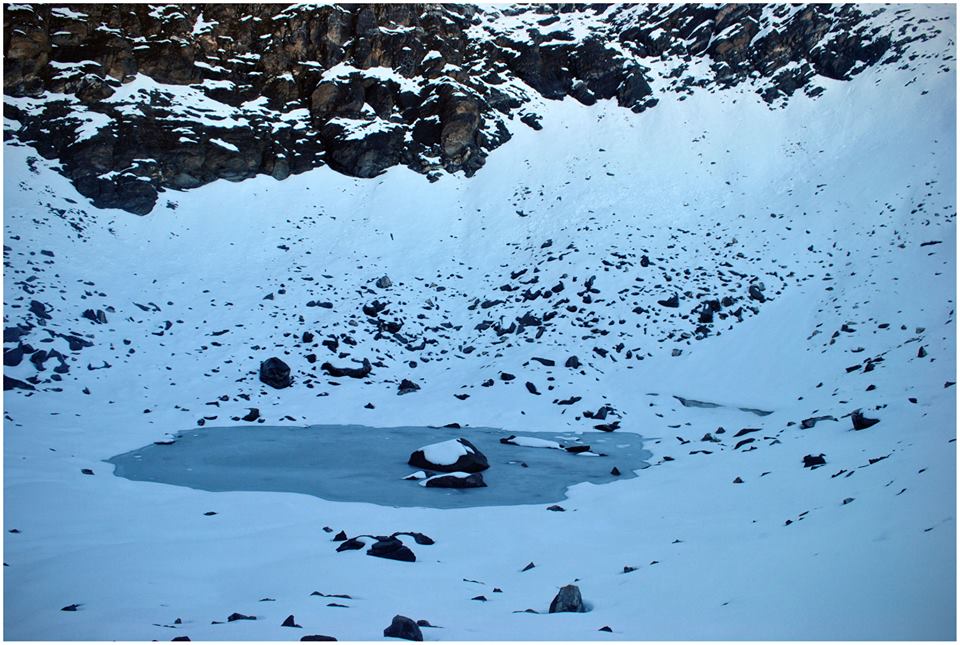 GOECHA LA
Goecha La Trek, considered among the most beautiful trails in Sikkim, is nothing short of a path to paradise. Goecha La lies at 16000 feet above sea level, and it takes about 11 days to reach its summit from the base camp. A highlight of a trail to this trek is the opportunity to witness the great Kanchenjunga Peak, besides others like Kabru and Yuksom. The scenic landscape of the region, abundant with varied flora and fauna, soaring peaks, stunning lakes and magnificent rivers mesmerises one and all. This moderate to difficult expedition starts from Yuksom, passing Sachen Pass before joining the Dzongri-Goecha La trail. Recommended only for the experts, the Goecha La trek is once in a lifetime opportunity.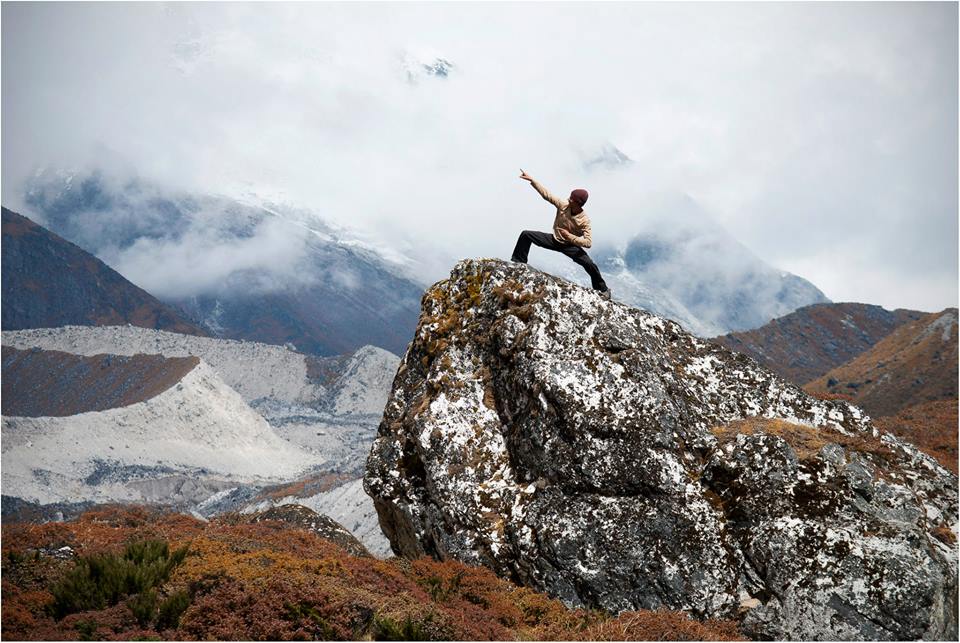 STOK KANGRI
Situated in the Leh-Ladakh region, Stok Kangri Peak has an altitude of about 20080 feet. Reaching its summit is said to be one of the most challenging and exciting trails in the Himalayan region. This 9-day expedition through rocky, uninhabited terrains is quite testing and takes a toll on the body. Hence, you need to be physically and mentally fit and well prepared for this arduous journey. The ideal season to go for this adventurous expedition is from July to September. This trail is meant for experienced trekkers, who are well aware of the challenges that this region poses.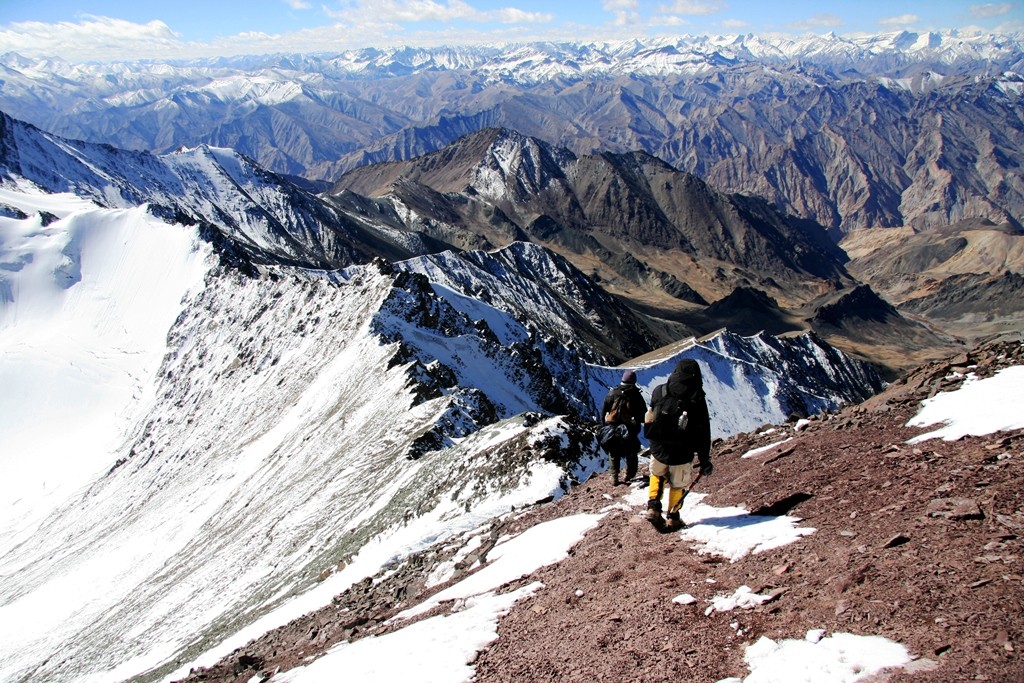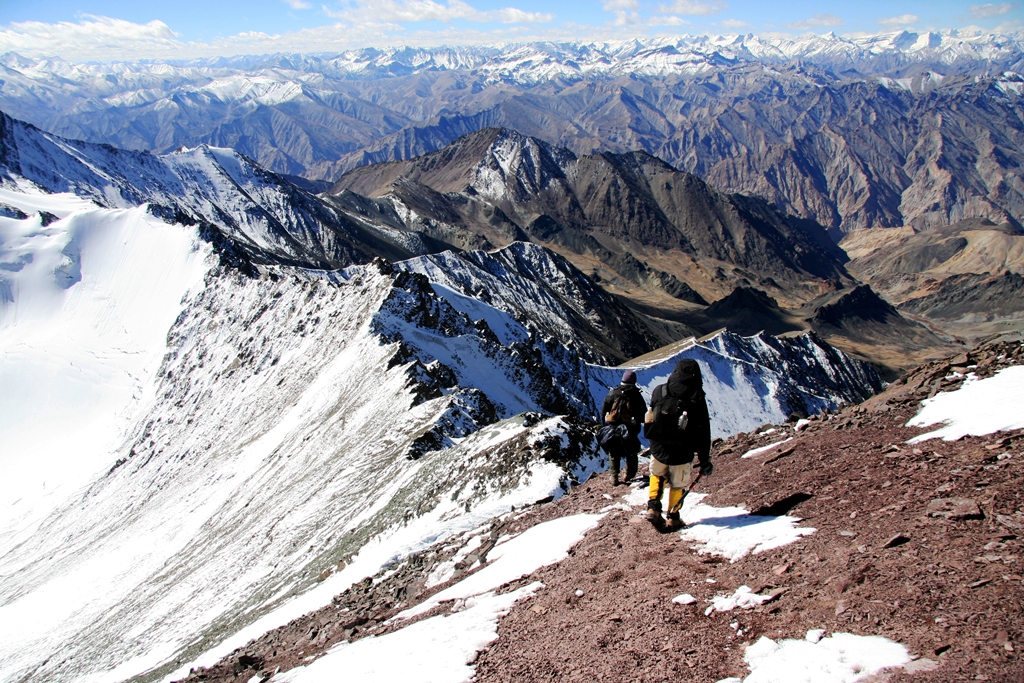 CHADAR
Considered as one of the unique and amazing trails in Ladakh, the Chadar Frozen River Trek is a difficult proposition, but that does not discourage hundreds of enthusiasts who wish to witness its sheer beauty and magnificence. This 9-day trek begins from Tilat Sumdo and proceeds to Tilad Do, Gyalpo and Tibb Cave, thus offering numerous chances to take some amazing pictures. Walking on the frozen river amidst rocky snow peaks is something that you simply cannot forget. Located at a height of approximately 11,123 feet above sea level, this frozen river is among the unique wonders of nature.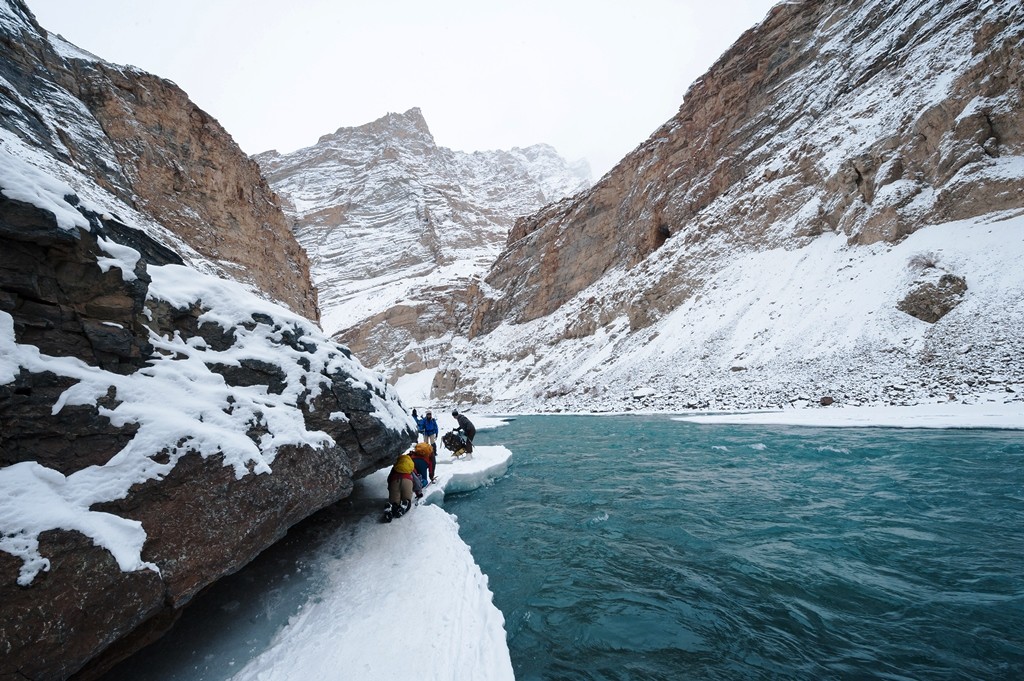 KASHMIR GREAT LAKES
On this wonderful trail, you have to trek for more than 63 km in 8 days, while camping at various places on the way. It starts from Sonamarg and passes through Gangabal, Gadsar, Satsar, Kishansar, Vishansar and Nundkol lakes. The natural beauty, including varied flora and fauna that you would witness during this expedition, will certainly appeal your mind and heart. With a maximum altitude of 13750 feet, Kashmir Great Lakes is a moderate trek and requires a basic level of fitness.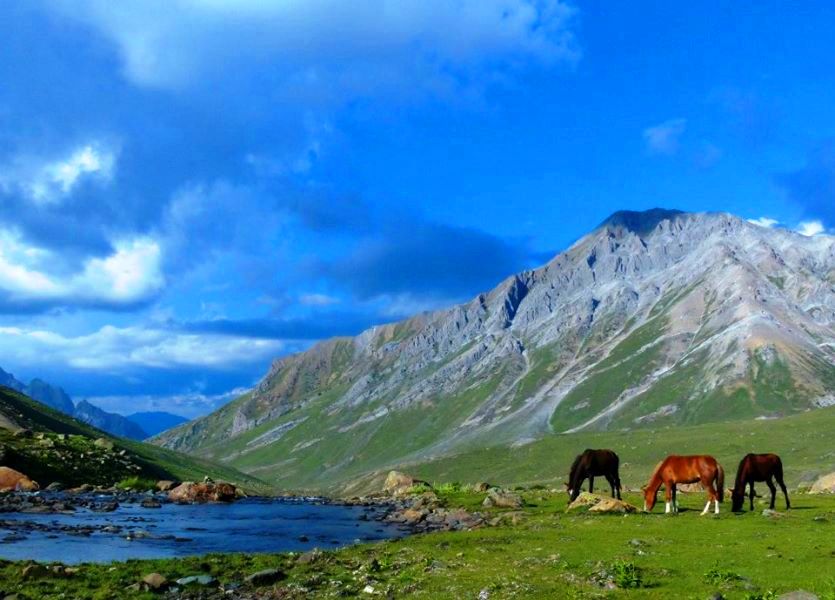 MARKHA VALLEY
Considered to offer one of the most diverse treks in the Western Himalayas, the Markha Valley lies in Ladakh and at one point, passes through the majestic Hemis National Park. On this journey, you would meet a number of nomadic families, who can be seen herding their yaks. The rocky terrains and few spots of greenery along the way are simply breathtaking. Since it is a moderate-to-difficult trek, you need to prepare accordingly, both mentally and physically.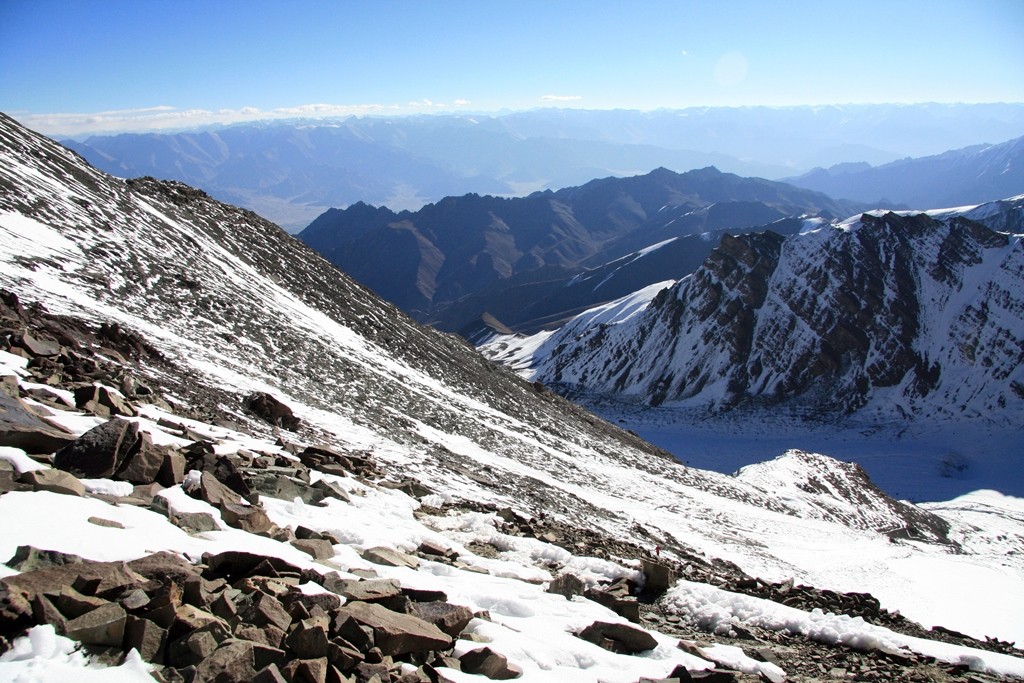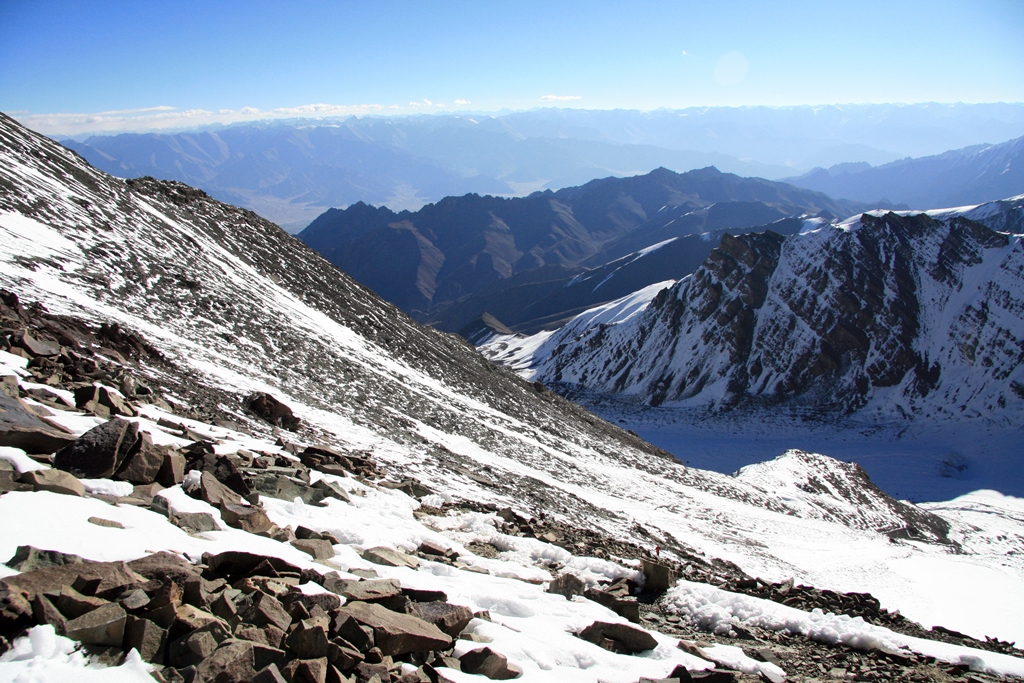 EVEREST BASE CAMP
Reaching the base of Mount Everest, the highest peak in the world, is a dream for any intrepid trekker, but only a few lucky have managed to realise it. The best time to go for the Everest Base Camp Trek is from March to May and then between September and November. With the maximum altitude of 18192 feet, this is a challenging trek and preparation for it needs to be done much in advance. This trek can be done from the landlocked kingdom of Nepal. This 14-day trail begins from Lukla and then continues to Phakding, Thami, Khumjung, Dingboche and Lobuje, before finally reaching the Everest Base Camp.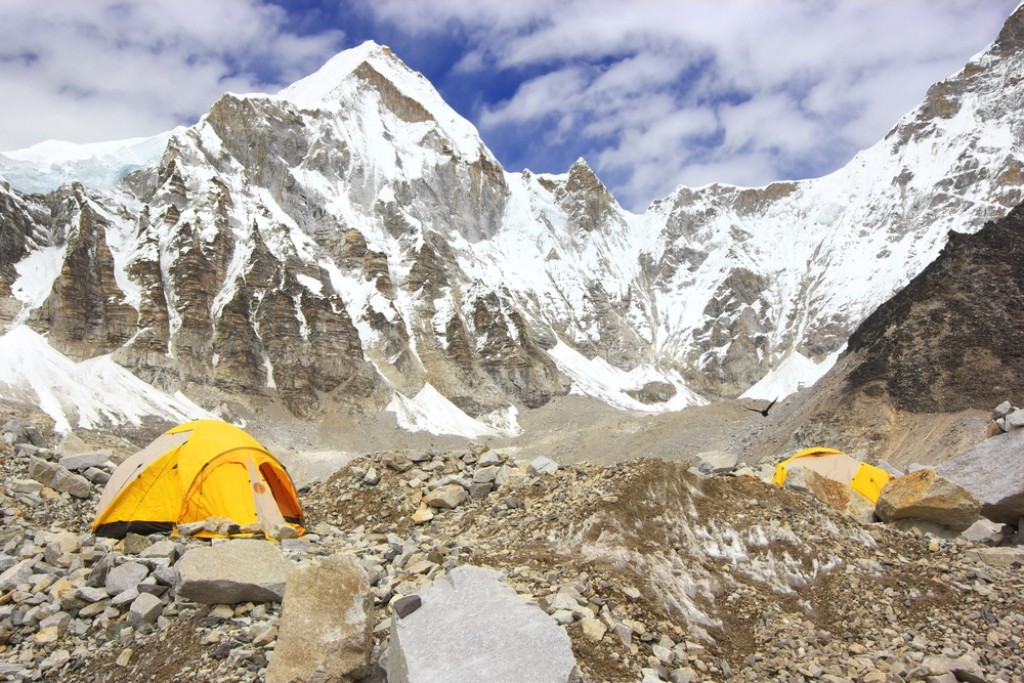 ANNAPURNA CIRCUIT
This 15-day, difficult trail offers the chance to witness the beauty of the Annapurna Massif and to reach its base camp at Thorong La pass, which lies at an approximate elevation of 17769 feet above sea level. The thrill and excitement of crossing the world's deepest gorge, Kali Gandaki is like a never-before experience. The Annapurna Circuit Trek begins from Khudi and passing small villages in the Annapurna Conservation Area, forests and rice farms in the initial days.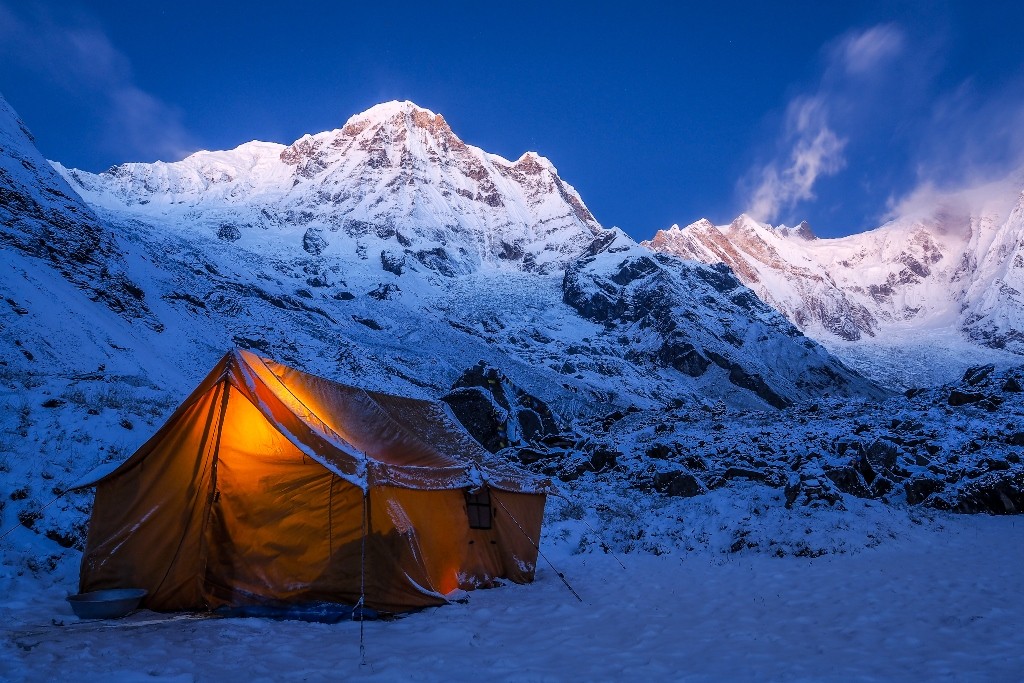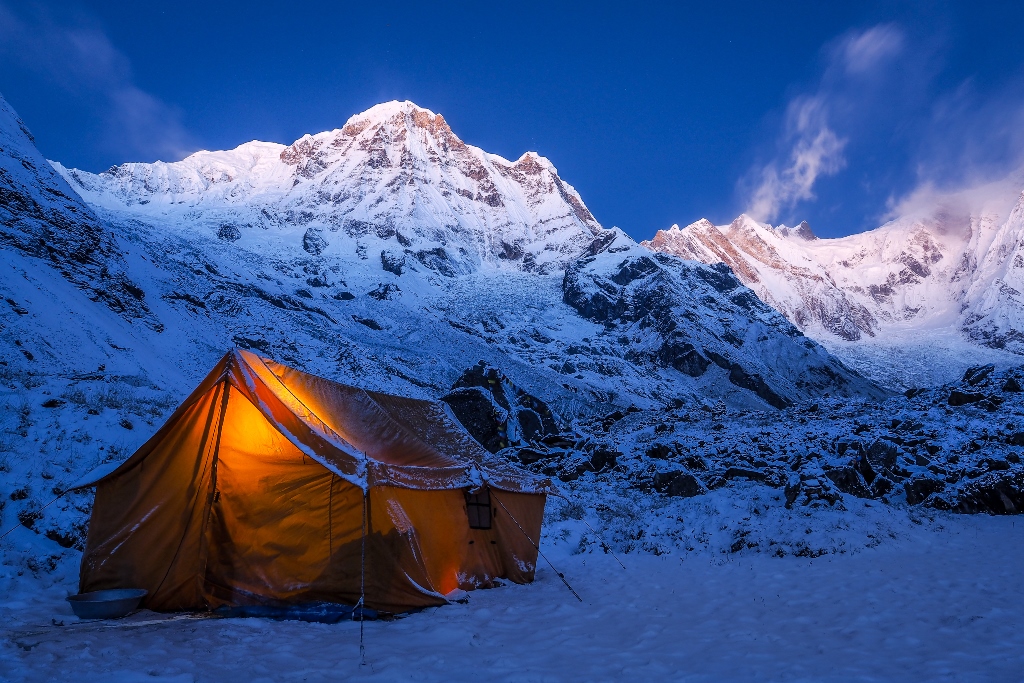 RUPIN PASS
Situated in Himachal Pradesh, Rupin Pass offers one of the best trekking opportunities in the Himalayas. This trek, taking you to some of the most stunning points in the region, will mesmerise you to the core. The splendid sceneries of lush meadows and snow fields along the way will compel you to halt and admire their beauty. At 15250 feet, this 8-day trek is rated moderate to difficult and is ideal for experts, but even those who have done some Himalayan Treks in the past can take it under proper guidance. Mental and physical preparations are a must for such a trek in the Himalayas.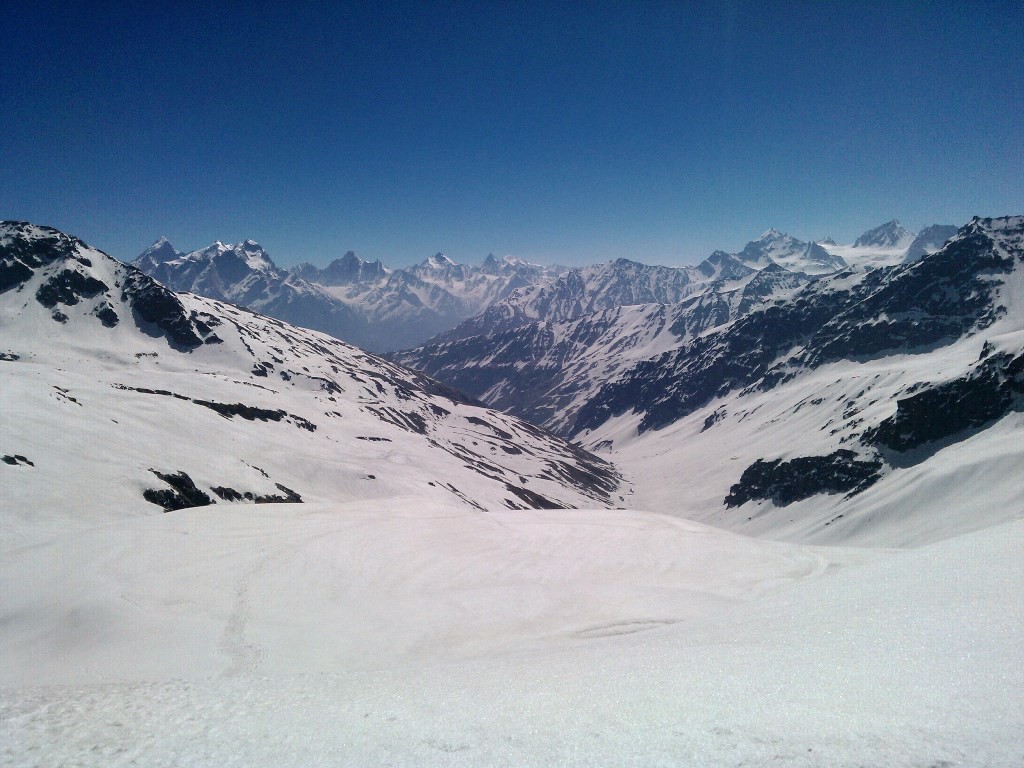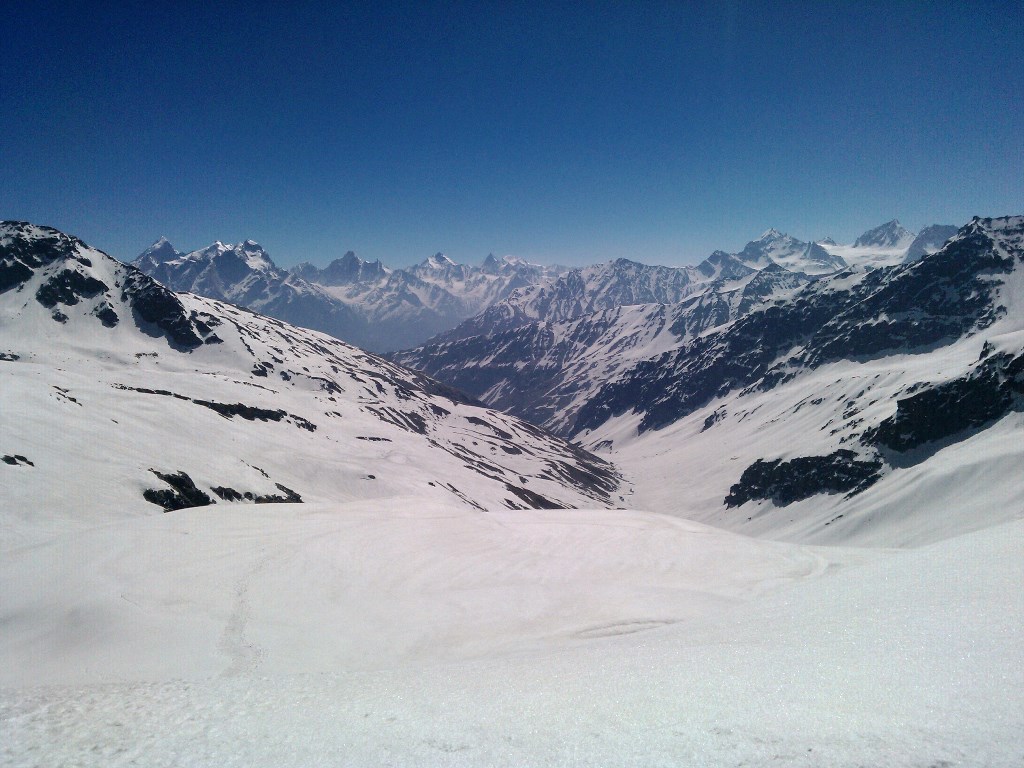 PIN PARVATI
Located in Himachal Pradesh, Pin Parvati Pass at an altitude of 17450 feet above sea level, offers a wonderful opportunity for some trekking thrills. It has been named so because it links the Pin Valley (Spiti) and Parvati Valley (Kullu). This high-altitude 11-day trekking adventure offers the opportunity to capture the magnificence of the western range of the Himalayan Mountains while walking along the snow peaks; crossing naturally formed rocky bridges; witnessing wild, colourful flowers and spotting Himalayan brown bears. Ideal for expert trekkers, the Pin Parvati trail is surely meant for the brave hearts.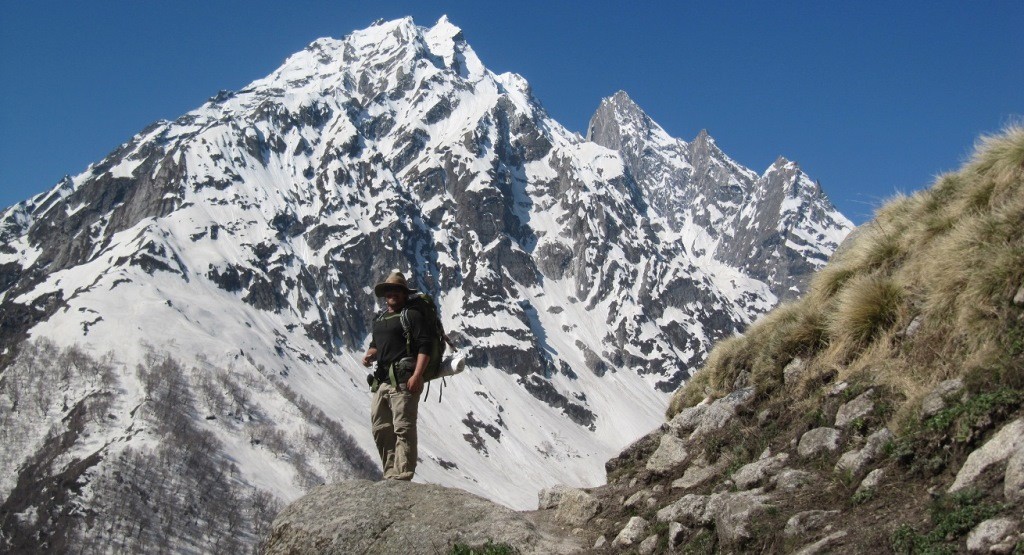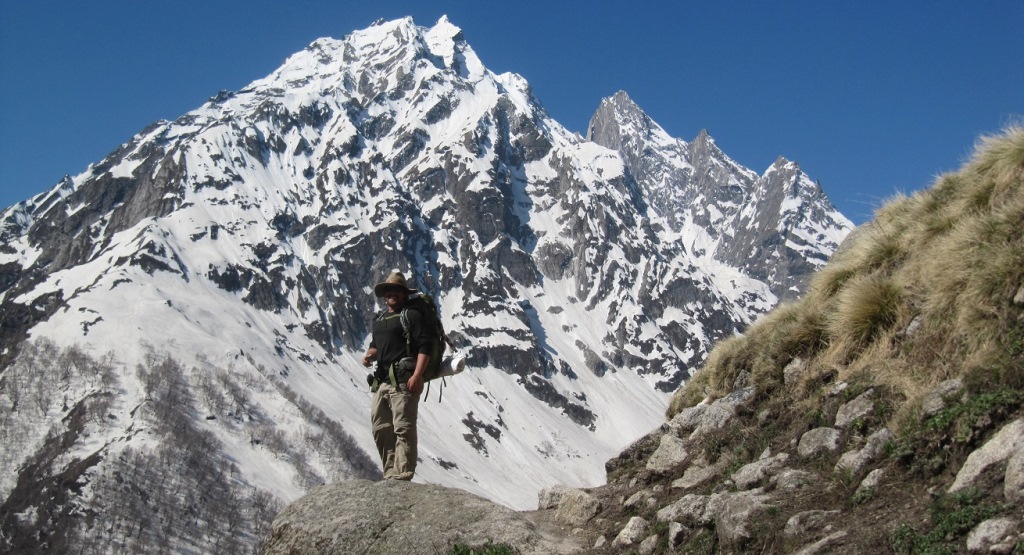 These fantastic trekking destinations in the great Himalayan range beckon all those adventurous souls, who have it in them to scale great heights, literally, and brave all the challenges that they pose at every step. If you are one of them, then plan an expedition to these destinations and experience an adventure like never before.