Bheemeshwari – Weekend Getaway near Bangalore
I am a happy-go-lucky person, who loves reading, writing and travelling. Gardening and good food are the other things that I am passionate about. My motto in life is simple, "Love what you Do and Do what you Love".
Latest posts by Meenakshi (see all)
Located picturesquely on the banks of River Kaveri, Bheemeshwari is approximately 100 kms from the tech city of Bangalore. It is a perfect weekend getaway for those residing in Bangalore and around. Due to the greenery and the tranquility that it offers, it makes for a great picnic spot for families. But there is more to this place than just picnics.
Due to vast verdant spaces, availability of camps and adventure activities like whitewater rafting, trekking, birding, angling, kayaking, camping and coracle ride, it is one of the most visited destinations for corporate off-sites and soft adventures. Click here for an adventure filled trip to Bheemeshwari.
It lies between the Shivasamudra falls and Mekedatu in the Mandya district and is a natural habitat for the Mahseer fish and many other animals. It has many fishing camps that offer accommodation and angling as a leisure and responsible sport where the Mahseer fish are released back into the water.
Bheemeshwari is also extremely popular for its wildlife sanctuary which is located amid natural waterfalls Barachukki, Mekedatu and Gaganachukk. It is an ideal place to go for a wildlife trek and watch wild animals like elephants, deer, wild boars, leopards, otters, crocodiles, monkeys, jackals and birds like ibis, herons, kingfisher and pigmy woodpecker in close quarters.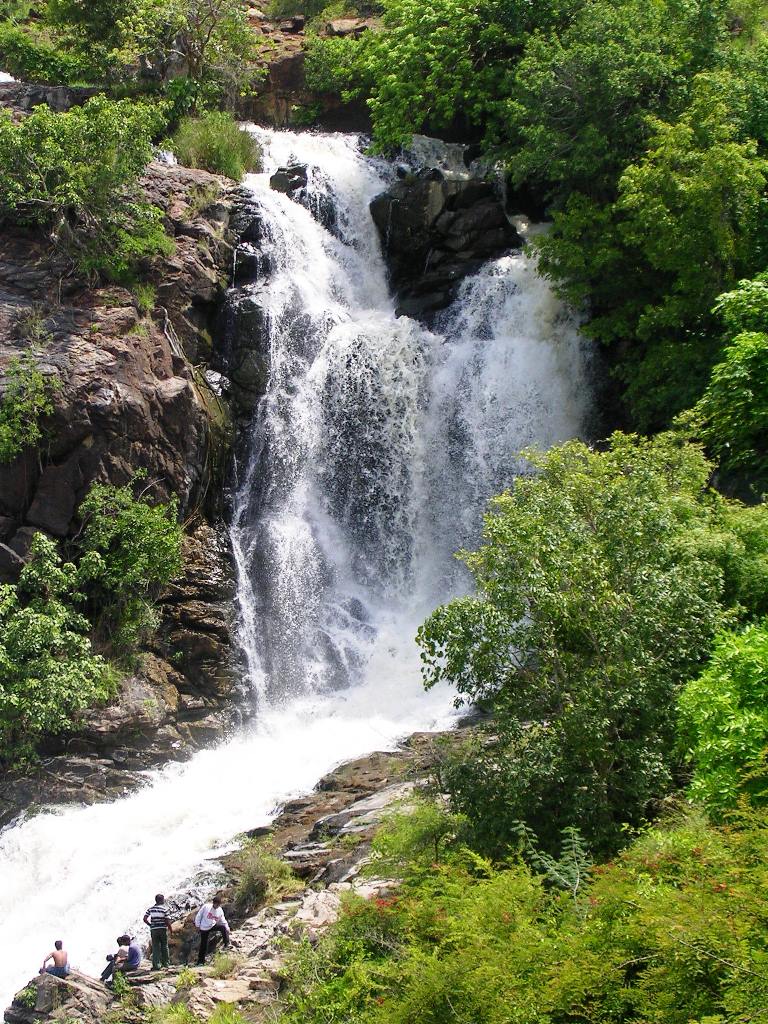 Rafting here is very thrilling and the rapids are graded as per international standards. Most rapids here are grade 3 or medium on the difficulty scale.
You could visit for a day or camp overnight, it has it all! Here are some of the other popular spots:
Galibore – Situated deep in the deciduous forests, Galibore is 16 kms from Bheemeshwari. It is situated right by the river where wild elephants often visit for a drink of water. This place is tailor made for short hikes, birding and relaxation!
Sangam – Offering grand vistas of the entire region, Sangam, which literally means confluence, sees the conflux of Kaveri and Arkavathi Rivers. This place is known for birding and wild animals like tigers, elephants and deer can be spotted here.
Kokrebellur Pelicanry – A small village near Bheemeshwari, Kokrebellurr Pelicanry is the perfect place to spot white pelicans and painted storks. This area is teaming with various species of fish that make for a great meal for the fish-eating pelicans.
Doddamkkali – Located 6 kms upstream from Bheemeshwari, this campsite is considered a perfect getaway by corporates and other people traveling in groups. Its tented cottages and open spaces widen the scope for team games and soft adventure activities.