Operation "Sunshine" – Under the North Pole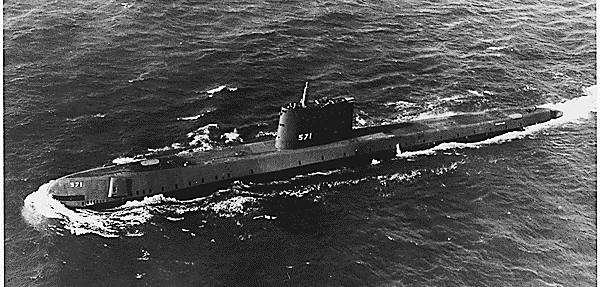 A writer by passion and profession, I spent my school days reading John Grisham, Sydney Sheldon, and Agatha Christie, and often wrote poetry that was rather solemn for my teenage years.
With one foot in the real world and another in Middle Earth, Westeros and sometimes even Westworld, I love nothing more than a good fantasy-fiction story. It provides an escape from the mundane and also a host of characters to form lifelong connections with.
Another form of escape that I quite enjoy is travelling and writing about it. The stories of people and places, when presented with an individual's unique perspective, can make quite an impact on the readers.

Latest posts by Shuchita Joshi (see all)
Every action when looked at from different perspectives could mean different things! Same can be said for this historical adventure in which a 37 year old Navy Captain and his crew of 116 became the first people ever to complete the first successful submerged voyage around the North Pole.
Let's start at the beginning! It was the period of Polar Exploration. Many countries and governments had sent their expert teams to the far off lands both North and South of the equator. While there were political agendas, scientific aspirations, and exploration possibilities, there were also the dreams of experiencing the ultimate adventure – being there where no man has set foot before!
On 4th October, 1957 the Soviet Union launched Sputnik – the first artificial Earth Satellite and as expected it brought in new military, scientific and political developments and aspirations. One part of those developments was the Operation Sunshine – a submarine transit of the North Pole, ordered by President Eisenhower in 1958.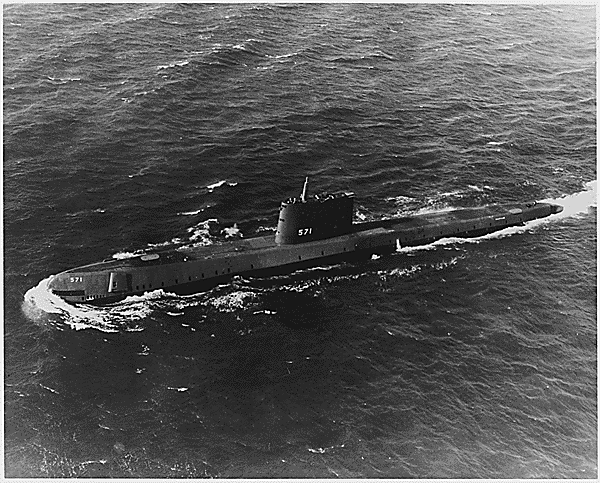 The mission started on 25th April, 1958, when USS Nautilus (SSN – 571), world's first operational nuclear-powered submarine, commanded by Commander William R. Anderson headed towards the West Coast starting from New London, Connecticut. After stopping at San Diego, San Francisco and Seattle it left Seattle port on 9th June, 1958. An attempt to enter the open waters was made on 19th June, 1958 but it had to be pulled back due to drift ice in the shallow waters. Special Gyrocompass built by Sperry Rand was installed just before the journey began.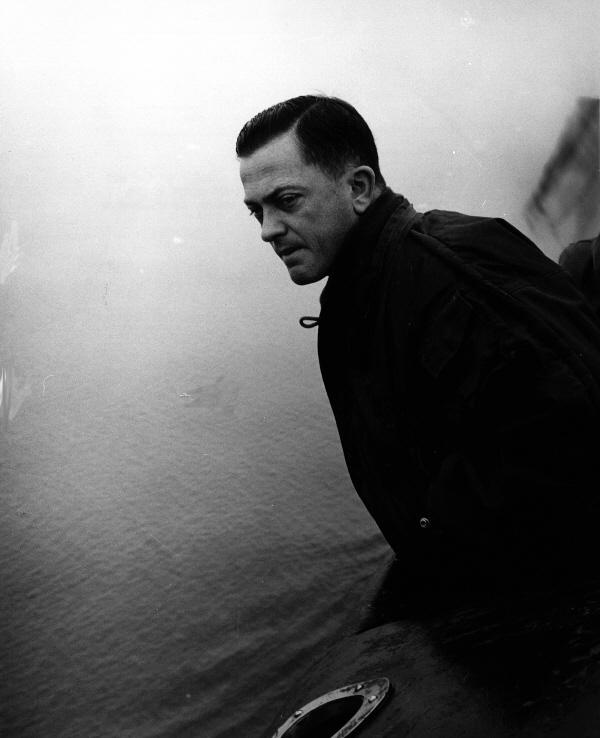 Nautilus arrived at Pearl Harbor on 28th June, 1958 and waited for ideal ice conditions. On 23rd July, 1958 the wait was finally over and it set course again towards the North Pole. It submerged in the Barrow Sea Valley on 1st August, 1958 and two days later on 3rd August, 1958 at 2315 hours (EDT) became the first watercraft to reach the geographic North Pole. The water temperature was 0 degree Celsius and the depth more than 13,000 feet (2,000 feet deeper than anticipated).
The most difficult stretch of the journey was in the Bering Strait where the ice extended almost 60 feet below the sea level. After 96 hours and 1,590 nmi under the ice, Nautilus surfaced north east of Greenland, completing the first successful submerged voyage around the North Pole.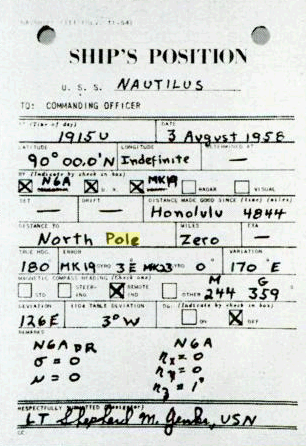 This mission was kept under wraps until after Nautilus had already reached open waters. Only Commander Anderson and a select few knew about it. The US government had undertaken this operation in order to explore a new trade route for carrying nuclear submarines. For Anderson and his crew, it was pure adventure! Anderson received the Legion of Merit from President Eisenhower and he went on to become a renowned author and politician. He breathed his last on 25th February, 2007.
As for Nautilus, it received the President's citation for outstanding achievement in completing the first voyage in history across the top of the world, by cruising under the Arctic ice cap from the Bering Strait to the Greenland Sea. It was also designated a National Historic Landmark and named the official state ship of Connecticut.