Offbeat Places in Ladakh You Probably Haven't Heard About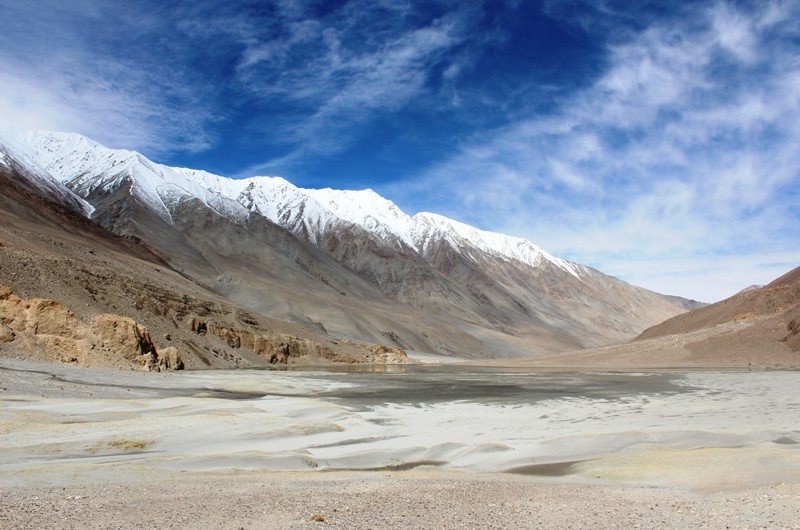 I am an ardent foody, who likes travelling. In my free time, I blast my ears with good-quality Heavy Metal. Watching culinary shows, writing songs, playing drums, guitar and keyboards, playing cricket and singing consume much of my leisure time.
Often, the famous places across the globe are known for certain things. But, most of the times, there is more to such places than meets the eye. A classic example of this would be Ladakh. Yes, I know that pictures of Ladakh, the lake shown in movie 3 Idiots and Khardung La, would have popped up in your mind. This is precisely where the problem lies. In our search for diamonds, we disregard the rubies, emeralds and sapphires. What I mean by this metaphor is that many go to Ladakh for the three places, known most to them, but miss out on exploring those places that are not so famous. And, it is in these small and slightly remote places that the true charm of Ladakh lies. Explore more about Treks in Ladakh. With this blog, I hope to tell you about the unexplored places in the region that you must make a point to visit. Let's discover the alluring offbeat places in Ladakh.

Zanskar Valley – Ladakh's Adventure Hub
It would not be wrong to say that the Zanskar Valley is the best place for adventure lovers in Ladakh. If you love getting splashed with water as well as speed, then you ought to go rafting on the Zanskar River. The rafting stretch from Remala to the confluence of the river with the Indus near Nimmoo is over 155 km long. You would go on high rapids and white waters, experience swift descents, get soaked with cold water and pass through gorges. The valley looks like a different world between the barren and snowy mountains, it is so colourful and verdant in summers that you will forget for some time that you are indeed in Ladakh.
The Zanskar River freezes in December and January, and gives you the ultimate chance to trek on the frozen river which is widely known as the Chadar Trek. It is counted in one of the most challenging treks in India.
For ages, porters have walked on the frozen river from Lingshet to Leh, hauling logs. Now, it has become famous as a trek and could be your way to loads of thrill. It will involve walking on a thick sheet of ice and even spending a night in a cave! On the way will be numerous waterfalls, with the water frozen in eerie and amazing shapes. This over 70-km hike will end up being one of the most daring and memorable things you ever do. So, if you are a daredevil, give it a try.
Turtuk – Land of Baltis and Apricots
Many of you might have heard of Malana, a village in Himachal Pradesh near the party town of Kasol. The stories of how people there look entirely different from Indians have been drawing tourists, and mind you, the legends are all true. Same kind of thing you will see in Turtuk, one of the last villages before the Line of Control. The people here are pink and white, and look as if they are from Iran or some such place. The reason for this is that these are of Balti descent, and the reason they are here is that Turtuk lies in the Balti region, most of which is in Pakistan and is called Baltistan. Apart from the Iranian-looking people, Turtuk is also known for apricots, supposed to be some of the best on earth. Ask the kids here to pose for photos, and they will do it gleefully.
Uleytokpo – Campsite with a View
About 60 km from the city of Leh, Uleytokpo is a camping ground on the banks of the Indus River. If you do not want to stay in the city and want some quiet place, this is the perfect place for you. The only constant sound here would be that of the river, and if you are lucky, of regional birds as well. Accommodation is readily available here either in tents or proper cottages. Imagine waking up to the sight of imposing brown cliffs, lit naturally. Feel like having a picnic? You won't have to go anywhere as the grass in Uleytokpo in summers is lush enough for you to sit on it and relish a leisurely lunch or tea. You have numerous sightseeing options in the area as well.

Basgo – Commanding Ruins
The village of Basgo is about 36 km from Leh. In its heyday, it was an economically prosperous town and also served as the local capital. Now, there is nothing left of it except for a monastery and erstwhile royal palace, both of which are mostly in ruins. The structures are located on such sharp and high mountains that looking at them would make you think, "Who would live in such an inaccessible place?" But, the truth is that these are not really inaccessible and you can easily reach both of these sites. The monastery consists of three main temples, all dedicated to Maitreya, the Buddha of the future. Like all Buddhist monasteries in Ladakh, it is studded with copper statues and wall paintings, depicting incidents from the life of Lord Buddha. From a distance, the palace may be impossible to spot because of the similarity of its colour to that of the mountains. Both the palace and the monastery offer amazing views of the ghost town below and the bewitching scenery all around (something to click photos of).
Sumur – Visit a Monastery, Go Hiking
Sumur is a small village on the banks of the Nubra River. The most notable place here is Samstanling Gompa, a fairly new monastery, built in 1841. Okay, it might not really be new, but it is when compared to other monasteries in Ladakh that date from the 16th or 17th centuries. I don't know if it has been well maintained or just well built, but it looks almost as good as new. Inside, you will be amazed at the sight of bright and colourful wall paintings of various deities. You will see large scroll paintings on silk cloth as well, depicting some sort of religious symbol. Coming to the hiking part, there are numerous trails leading to even smaller villages at even higher altitudes. So, if you fancy rigorous mountaineering, then you can definitely follow a trail from here.  

Panamik – Comfort of Warmth before the Icy Cold Heights of Siachen
Another of those small villages in the Nubra Valley, Panamik is roughly 55 km from the town of Diskit. This village is unique in a way because it is home to a hot sulphur spring, which drastically contrasts the mind-numbingly cold Siachen Glacier, which lies a few kilometres ahead. Panamik is the last village you can visit in the Nubra Valley as civilians are not allowed on the glacier for obvious reasons. So, you may have plenty of time to spend in the village, and I suggest you utilise this opportunity to bathe in the hot springs. As per beliefs, they have medicinal properties, capable of curing various diseases. There are separate pools for women and men in the bath complex as well as shower cubicles. A dip in the therapeutic springs can be a good way to relieve you of stress or any altitude sickness symptoms.
Rumtse – The Gateway to Tso Moriri
A tiny settlement on the Leh-Manali Highway, Rumtse is the gateway to the scenic lake of Tso Moriri. By road, the lake is about 165 km from the village, but you should be better off trekking. A hike of 9 days will take you to your destination and will be totally worth the effort. All along the way, you will see lush grass along river banks and also on mountains. This will make you realise that Ladakh is not really barren as opposed to the common belief, but steppe vegetation does exist here. On the banks of the lake, you will see probably the lushest grass in the entire Ladakhi region. If you are lucky, you may also get to see numerous regional birds and animals, so keep your cameras ready.
Upshi – A Quaint Resting Spot
The village of Upshi is located on Leh-Manali Highway and is reached after descending from Taglang La. If you feel tired of the long road journey or altitude sickness, then you can by all means stop here for the night. Upshi has numerous budget hotels, guest houses and campsites for you to spend the night. Changthangi goats with thick, long hair are a common sight in the area. The locals literally pamper these animals by brushing their fur almost every day, keeping them nice and shiny. It is from their wool that the highly demanded and expensive Pashmina shawls are made. If you have time, then you must visit the numerous monasteries nearby. The monasteries or gompas of Stok, Hemis, Thiksey and Shey are all within 55 km from the village.
Hot Springs in Chumathang – The Ultimate Relaxation
Whether you are on a road trip in Ladakh or just sightseeing in general, you will need a break. You can suffer from altitude sickness here and just tire sooner than usual. Hence, you will feel the need to relax, which you should never overlook. One of the best spots to relax in Ladakh are the hot springs in Chumathang. These are natural pools on the banks of the Indus River, from where hot sulphur-laden water springs forth. You can even see the water slowly slithering its way into the fast-flowing river. You can just sit in one of the pools and say goodbye to your troubles. If you have been trekking in the region, then these springs will be especially relaxing.
Changthang – The Tibet of India
Ladakh has often been compared to Tibet because of the similarity in their cultures that are predominantly influenced by Buddhism. There is another reason why this comparison makes sense. A place in Ladakh, called the Chanthang Plateau, is actually a part of Tibet itself. This region is characterised by the absence of trees that are still easily visible in other parts of Ladakh. Located at an altitude of around 15400 feet, Changthang is generally colder than the rest of the Ladakh region, so take lots of warm clothes even in summers. Here, you will get to see lots of Changpa nomads, who rear the endemic Changi goats for their wool. For a bit of nature appreciation, you can head to Changthang Wildlife Sanctuary and see wolves, snow leopards, bharals, gazelles and loads of regional birds. One of the most famous places in Ladakh, Pangong Tso, along with Tso Moriri Wetland Reserve also lies on the Changthang Plateau.
Now, the next time you go to Ladakh, ditch the usual places and give the above-mentioned sites a try. These will give you a new perspective into the region, its culture, natural beauty and people.