How to prepare for Goecha La Trek
I am an engineer by education, but a blogger by choice. With a keen interest in portrait and nature photography, I never forget to carry my DSLR when on an outing or celebrating special occasions with dear ones. In free time, I love to read and write blogs, or stay busy with my kiddo.
The end of monsoon is here and winter's on its way. It's time again to plan a date with the Himalayas. After exploring the majestic Trishul, Nandaghunti and Dhauladhars in Uttarakhand and Himachal in the summers, it is high time we should look east. By east we mean North-east. And there is no better way to explore Eastern Himalaya than to trek to Goecha La Pass. This trek route brings you up and close to Kanchendzonga Mountains like no other. Kanchendzonga or the sleeping Buddha is the tallest mountain in India and the third highest in the world. Trust me when I say that this trek will surpass all your expectations. The mountains are higher than you have ever seen; the climbs harder than what you have done so far and the weather much colder than what you have experienced so far!
That is why it's my pleasure to list out a few things to keep in mind to best prepare for Goecha La Trek 
Know the trail
The Trek is generally moderate since we climb up to 16000 feet. The trail goes through moss covered forests of chestnut, oak, maple, pine, and magnolia and last, but by no means least, the most popularly known Rhododendron trees. We explore the rich bio diversity of the diverse forests throughout the trekking trail. If lucky you may spot many beautiful birds like Red Billed Leothrix, Rufous vented Yuhina, Fire breasted Flowerpecker, and Silver eared Mesia and many others. One encounters not just Mt. Kanchendzonga but also gets a close up view of Mt. pandim, Kabru and Simovo. It is a perfect place for a naturalist and a mountain worshipper. So keep your cameras ready and a writing pad if you would want to take notes.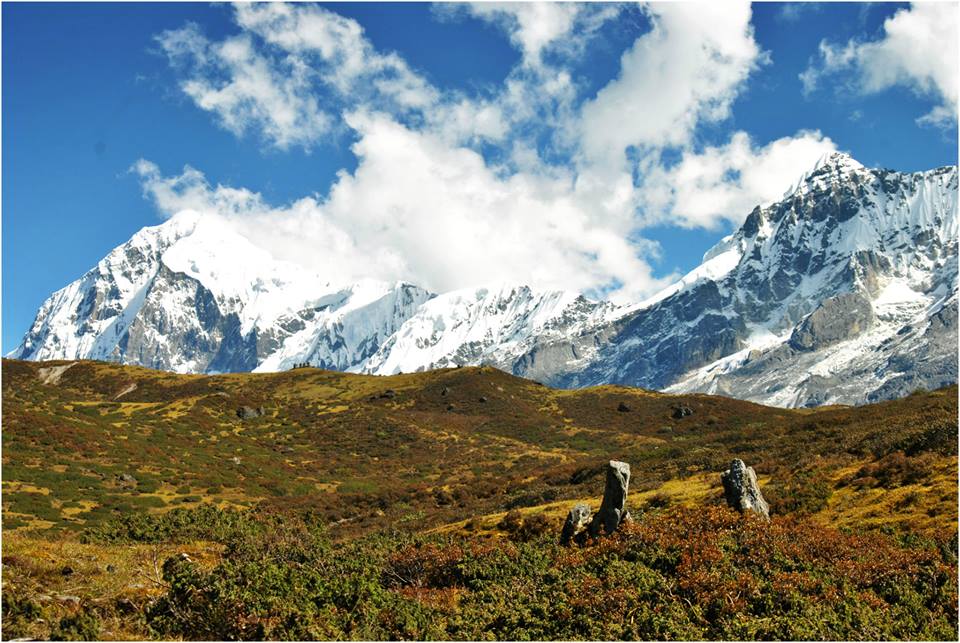 Preparation for the best experience
One must remember that it is a trek that goes through tough terrain, so one must be physically and mentally strong to complete this, as in a span of 8 days one walks for about 90 odd kilometres. Especially on the day you cross the Goecha La Pass, it gets long and tiring. One must be able to sustain for about 12 hours of trekking.
In order to make sure that you have the right amount of fitness required for this trek, it is recommended to do cardio exercises like jogging, climbing stairs, and cycling on regular basis. One must attempt to jog 5 kilometres in 30 minutes. If planning to walk on a treadmill, try it on inclined mode for the desired results.
Apart from cardio exercises, one must do regular stretching exercises which will help build the calf, shoulder and hip muscles. It will not be easy to tread on steep slopes no matter how light your backpack. It will cause immense strain to the lower back and hip muscle. Hence a bit of strength building exercises will land you in much better shape on the trek.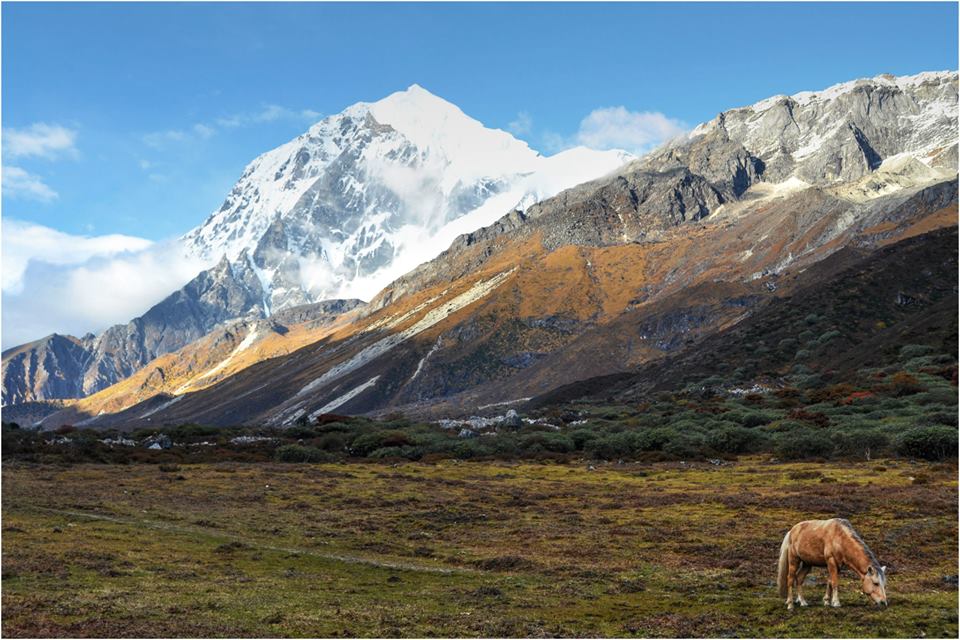 Lastly, if anyone is into yoga, then Pranayama and Asanas really help in fighting Acute Mountain Sickness.
How to pack right
Packing for a trek in summer varies from what needs to be packed for a winter trek. Goecha La in September and October will be much colder than in May. Hence one should pack extra carefully. In post monsoon season, the challenge is mostly with the chilled winds from which we must protect ourselves. Chances of snow, once at the pass, will be there. There might be chances of snow fall on the route as well.
Absolute essentials
Good quality Trek shoes
Rucksack not weighing more than 8 kgs
Clothing in layers – light layers as in full sleeved collared t-shirts with a fleece jacket topped with hollow fill jacket. A Balaclava, water resistant gloves, woollen socks for the nights and cotton socks during the day
Accessories – Head torch, Sunglasses, toilet kit consisting brush, tooth paste, sun screen lotion, hand sanitiser, trekking poles, water bottle
Personal medicine kit – should have medicines for fever, cold, stomach upset, acidity, headache, pain killer, Band-Aids
Miscellaneous – Tissue paper, plastic bags for carrying waste, day pack
Original and photocopy of government photo identity card (There is no place in Yuksom to get print outs and photocopies)
Two passport size photos
Foreigners need to obtain ILP (Inner Line Permit), which you can get outside Bagdogra airport or at the check-post before entering Sikkim from Silguri
Medical Certificate and Disclaimer (to be filled by the trekker)
Medical certificate (to be filled by a doctor)
Goecha La – Fun stories
The trekkers hut at Lamuney is considered to be haunted. Many trekkers have had weird experiences while spending a night at the trekkers hut. As far as the stories go, a trekker once was woken up by a strong push on his chest in the middle of the night and when he opened his eyes he saw nothing but felt someone sitting on his stomach. The feeling lasted for some minutes and warded off on its own. Spooky huh? Don't worry; you get to stay in tents not in the hut 🙂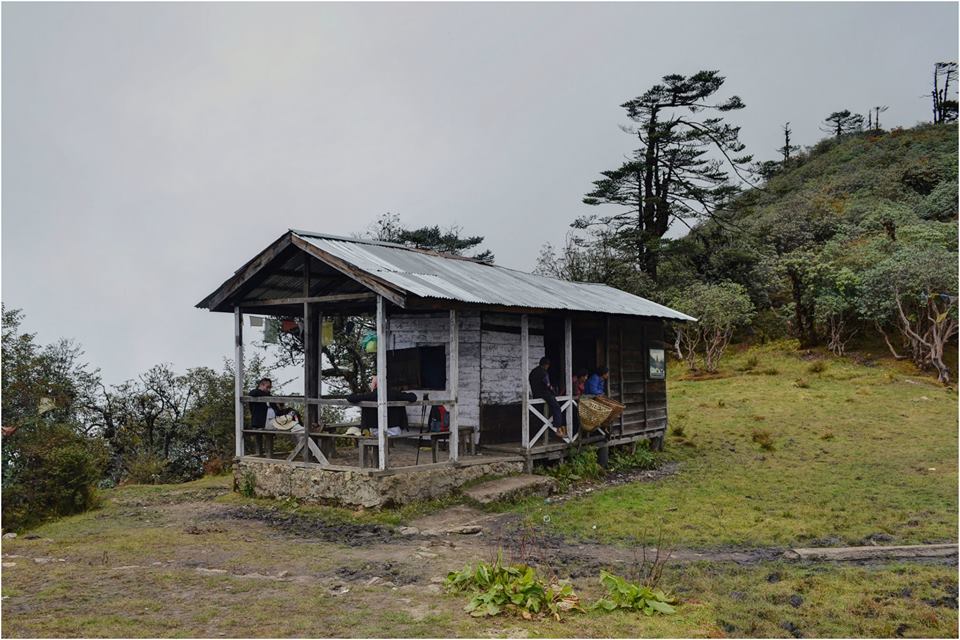 The day of the cross over to the Goecha La pass from the campsite Lamuney will be the most memorable day of your life. Typically you begin at midnight around 2 AM under the guidance of the starry night sky and ice cold air for your company to reach the first spot from where you get to view the sun rise over Kanchendzonga up-close. The story will not be over at this spot. It is only the beginning. There are many myths about viewpoints in this trek. They are all unique points from where one gets jaw dropping views of the mighty Himalayas. One completes the trek only after reaching the green glacial Goecha Lake. People should not confuse this lake with the Samiti Lake which comes much earlier on the route while coming from Lamuney. The Goecha Lake is the start of Goecha La. It is from this point that you get the views of not just Kanchendzonga but also Mt Pandim, Simovo and the mighty Goecha Peak. It is this place which can be truly called the stairway to Kanchendzonga.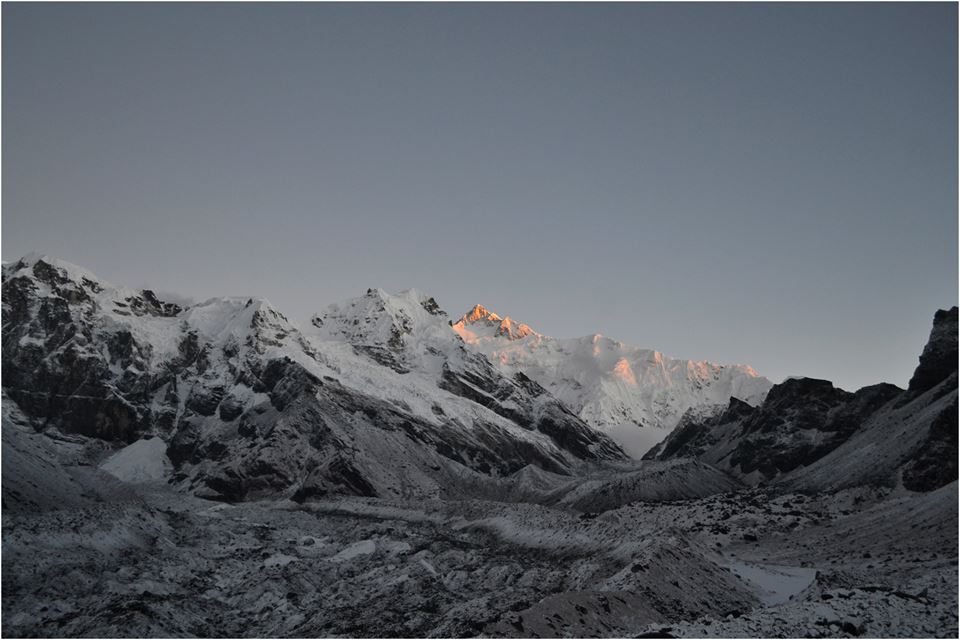 Lastly, Goecha la is a trek very dear to my heart and I insist all to do this trek if intrigued by Eastern Himalayas. No other moderate level trek takes you so close to the mountains that you could feel like you can reach out and touch them.  All the fun, thrill and adventure are hidden in the last days of the trek. Ensure to go for it and stay at it!