Thrilling Trekking Expeditions to the Scenic Himalayan Lakes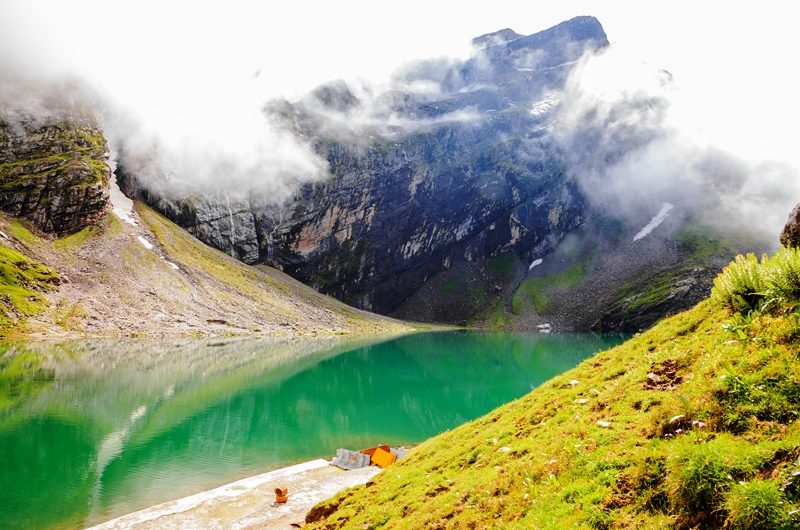 I am an engineer by education, but a blogger by choice. With a keen interest in portrait and nature photography, I never forget to carry my DSLR when on an outing or celebrating special occasions with dear ones. In free time, I love to read and write blogs, or stay busy with my kiddo.
The beauty of the Himalayas lies not only in its majestic snow-clad peaks, but also in its indigenous people and wildlife…also in its rugged terrains, and breathtaking rivers and lakes. And to witness these facets of this region, nothing can better than a trekking expedition! So, if you are planning a trip to this part of the world, then be ready to indulge in some adrenaline-pumping trekking action.   
Trekking in the Himalayan region is an experience, which can never be expressed truly in words but can only be felt; something that remains etched in the memory forever. Many adventure enthusiasts from across the globe dream of trekking in the Himalayas, and the best part is, hundreds of such dreams make it a reality each year.
Though it is common among adventurers to trek the high-altitude peaks of the Himalayas, some find solace in trekking to the glacial lakes of the region that are simply awe-inspiring and scintillatingly beautiful. The colour of their waters, their surroundings and the changing hues of the sky and mountain peaks at the time of dusk and dawn simply mesmerise the beholders. Many of these lakes have been formed owing to glacial activities in the region and are situated at some far-fetched locations; hence, reaching them becomes quite difficult at times. But trekking is never enjoyable unless the trail is strenuous, isn't it? So, if you have set your heart on undertaking a trekking expedition in the Himalayas, then do consider exploring these picturesque lakes, if possible.
Hemkund
This strikingly scenic lake lies amidst seven splendid snow-clad peaks and is known by the name – Lake of Snow. On the shore of this brilliant water body is situated the revered Hemkund Sahib shrine, which is thronged by visitors in large numbers every year. Trekking to this place can be an amazing experience, and it will also give you an opportunity to explore the splendid Valley of Flowers. You need to trek for 5 days from Govindghat in Uttarakhand to reach here. The best time to come to this lake, which is over 4329 m above sea level, is from July to September.
Chandra Tal
Chandra Tal or Moon Lake is probably one of the most spectacular wonders of the Himalayas. Located in the Spiti Valley of Himachal Pradesh at an elevation of more than 4200 m, Chandra Tal is simply mesmeric to behold as its colour keeps changing from morning to evening. Only about 6 km from the Lahaul district and the Kunzum Pass in Spiti, this water body is the source of the Chandra River. To reach this place, you will have to trek through two high mountain peaks, namely Chandrabhaga and Moulkila and the two different starting points of this fantastic expedition are Kunzum and Batal. The ideal time to come and witness the beauty of this crescent-shaped lake is from June to mid-October.
Roopkund
Roopkund, situated at an altitude of around 5000 m, is one of the highest of its kind in the country. Set near Trishul Parbat in the Garhwal Himalayas in Uttarakhand, Roopkund attracts a number of trekkers each year, even though accessing it is a bit tough. Another name for this water body is Mystery Lake because at the edge of it hundreds of human skeletons become visible when snow melts. It is said that these skeletons are of the pilgrims who died along the way to Nanda Devi shrine in the 9th century due to a natural calamity.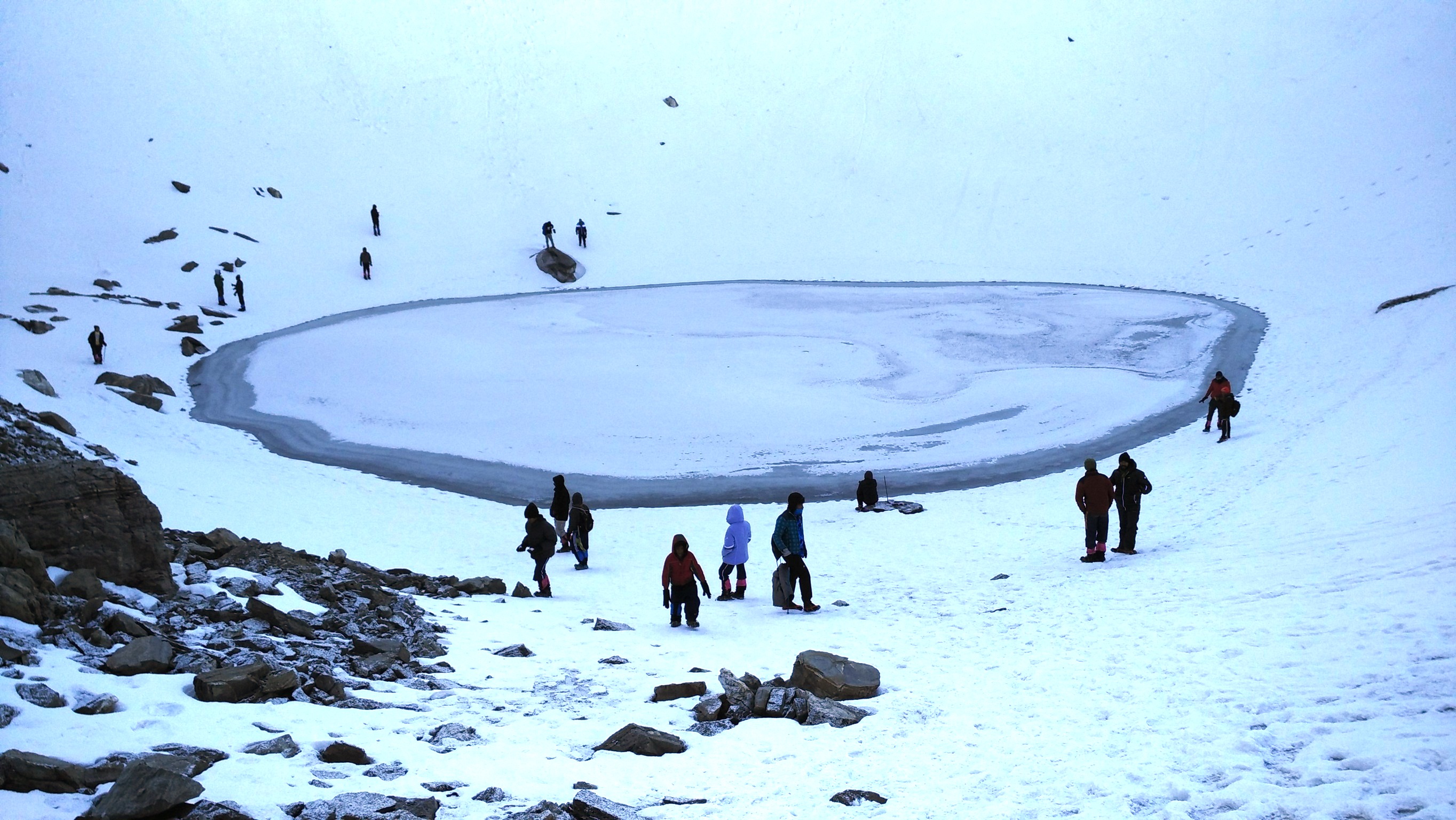 While manoeuvring your way through difficult terrains to reach here, do halt and behold the scenic views all around besides capturing them in your cameras. The other attractions besides Roopkund are Nanda Ghunti and Trishul peaks, which are at an approximate elevation of 6310 m and 7120 m above sea level, respectively. May through June is the best time to come to this part of the Himalayas.
Satopanth
Satopanth Lake is the fourth highest of its kind in Uttarakhand and ninth in the country. It lies at around 4600 m in the Garhwal Himalayan Range of mountains. This water body has high significance for Hindus as there is a belief that on an auspicious day, Lord Vishnu, Brahma and Mahesh take bath in it; thus, making it pious. For trekkers like you, the purpose of coming here should be to enjoy the thrill of one of the toughest trekking trails in the Himalayas that passes through the dangerous Dhano Glacier. The surroundings of the lake are as mesmeric as it is and so are the sightings of rare bird species. From here, you can enjoy the stunning views of surrounding mountains like Swargarohini, Balakun, Nilkantha and Kuber.
Kedar
Another popular glacial lake in the Garhwal Himalayas is Kedar Tal, which lies at an altitude of 4750 m above sea level. It is one of the highest of its kind in Uttarakhand. This sacred lake is the source of the Kedar Ganga River. It is believed by locals that this water body is a contribution to Bhagirathi River by Lord Shiva. An advantage of coming here on a trekking expedition is the opportunity to witness high-altitude peaks, such as Vasuki Tal, Bhrigupanth and Thalay Sagar.
Vasuki Tal
Another exciting and challenging trek in the Garhwal Himalayas is the Kalindi Khal trek, which leads to Vasuki Tal. It is situated at an elevation of over 4135 m. This high-altitude water body offers some breathtaking views of surrounding mountains like Basuki, Shivlinga, Satopanth, Bhagirathi and Chandraparbat; so coming here on a trekking expedition can be an entirely thrilling experience.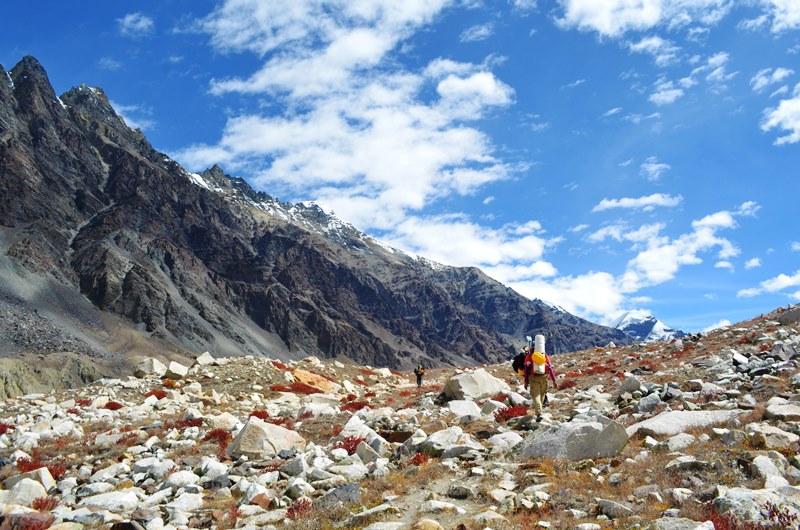 Suraj Tal
At an approximate altitude of 4880 m above sea level lies Suraj Tal in Himachal Pradesh. This sacred lake, which is the source of the Bhaga River, lies at the foot of the Baralacha Pass in the Zanskar Range of the Himalayas. A trek to this high-altitude water body will offer you the chance to witness the stunning beauty of the Zanskar Range and spend some quality time beholding the scintillating view of Suraj Tal also known as Lake of the Sun God.
Pangong Tso
Considered among the most beautiful lakes in the country, Pangong Tso is a solace seeker's delight. It is one of the highest lakes in Ladakh and lies at around 4250 m above sea level. Interestingly, this brackish lake remains completely frozen during the winter months. In recent years, this lake has become a popular destination for movie makers. The scenic setting of the lake draws thousands of visitors every year; however, undertaking a trekking expedition to this place is an arduous task. Besides camping by the lakeside and beholding the picturesque setting, you can do bird watching here as a number of migratory birds like Brahmini ducks and bar-headed goose flock here during summers. The lake looks serene in summer as well as winters, when it is completely frozen. However, the best time to come here on a trek is from June to September.
Tso Moriri
Another brackish lake worth trekking to also lies in Ladakh. Located at an approximate elevation of 4590 m above sea level, it is one of the most popular camping destinations in the cold desert. This area also serves as home to many endangered animals and several migratory species of birds during winters.
Namtso
In the Tibetan side of the Himalayas lies the stunningly beautiful Namtso Lake, which lies at 4717 m altitude. This largest saltwater lake in Tibet is known for its crystal clear waters and the surrounding snow-capped mountain peaks. Local nomads and yak herds are a common sight at this place. This lake is about 220 km approximately from the capital city of Lhasa and about 60 km from the county of Damxung. Most travellers and trekkers come here to behold the sunrise and sunset, when the sky turns golden and red. This lake is one of the three important lakes in this region; the rest two being Yamdrok and Mansarovar. May through September is the ideal time for going on a trek to this lake.
Yamdrok
This sacred water body in Tibet is famous for its turquoise waters and surrounding snow-clad peaks. Situated at a height of 4440 m above sea level, this lake is among the largest habitats of various species of migratory birds in this autonomous region. It lies about 210 km from the capital city of Lhasa. The best time to come here on a trekking expedition is from May to October.
Going on a trek to some or only a couple of these high-altitude lakes is sure to change your perception about the beauty of Himalayas; there is more to this wonder of nature besides the majestic peaks it boasts of!