India's Most Beautiful Valleys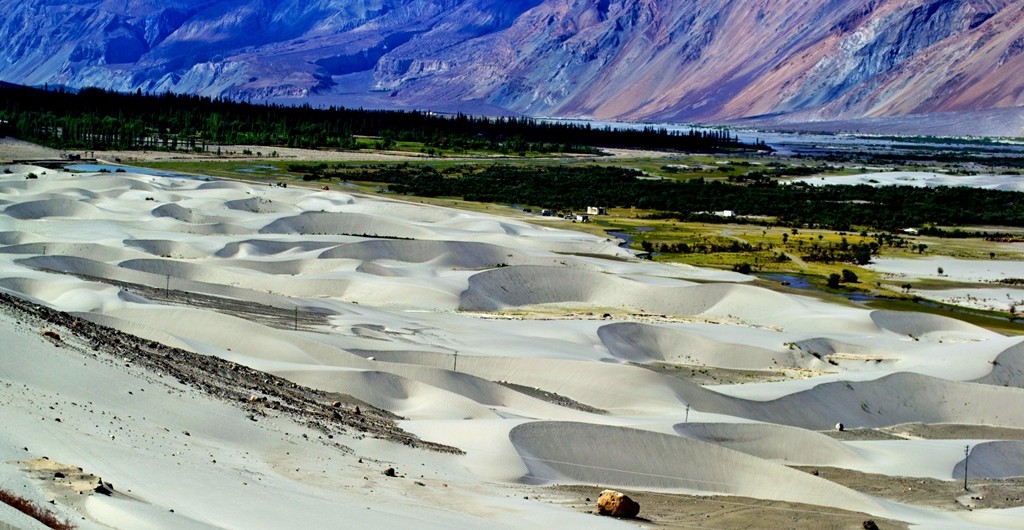 I am a happy-go-lucky person, who loves reading, writing and travelling. Gardening and good food are the other things that I am passionate about. My motto in life is simple, "Love what you Do and Do what you Love".
Latest posts by Meenakshi (see all)
India is home to some of the most diverse landscapes from mountains, valleys to forests, deserts and beaches. This diversity in topography attracts people from all over the world in every season to experience India in her many colors. India boasts some of the most beautiful valleys like the extremely popular Nubra in Ladakh or the verdant Dibang Valley in the north-eastern state of Arunachal Pradesh. Come explore these with us.
Nubra Valley, Ladakh, Jammu & Kashmir
Believed to be originally called Ldumra meaning the Valley of Flowers, Nubra is located to the north east of Ladakh Valley, approximately 150 kms from Leh. The meeting of Nubra and Shyok (tributary of Indus) Rivers forms a large valley, separating the Karakoram and Ladakh Ranges. This valley can be reached by travelling over the Khardung La from Leh. The average altitude of Nubra is roughly 10,000 feet above sea level.

An array of colors at Nubra Valley Image Credits: wikipedia.org

Spiti Valley, Himachal Pradesh
Located high in the north eastern part of Himachal Pradesh, Spiti Valley is situated between Tibet and India. It is a desert mountain valley and is one of the least populated regions of the country. It is a part of Lahaul and Spiti district and is home to similar Buddhist culture as found in Tibet and Ladakh. Kunzum La at 4,590 meters separates Lahaul from Spiti. The entire valley is surrounded by high mountain ranges. Heavy snowfalls cut off the valley from the rest of the country for almost 2-3 months from November to January every year.

The ever-welcoming Spiti Valley Image Credits: wikipedia.org

Dzukou Valley, Nagaland
Considered to be one of the most beautiful places in Nagaland, the Dzukou Valley is just ideal for easy to moderate trekking. Dzukou means Cold Water which comes from the cold streams of water that flow through the valley. It is known for its flora and fauna and particularly seasonal flowers like Dzukou Lily found only in this area. It sits at 8339 feet above sea level behind the Japfu Peak at the border between Manipur and Nagaland.

The undulating Dzukou Valley Image Credits: wikipedia.org

Dibang Valley, Arunachal Pradesh
With East Siang to the west, China to the north and north-east, River Lohit to its south-east and lower Dibang Valley to the south, Dibang Valley is surrounded by beauty and magnificence all around. It is made up of tough mountains with verdant valleys, mystic waterfalls, gorges, natural lakes and countless wandering rivulets. Dibang Valley District is the least populated district in India and it has its headquarters in Anini, which is located at 6456 feet above sea level.

Mesmerising Dibang Valley Image Credits: wikipedia.org

Araku Valley, Andhra Pradesh
Still untouched by commercialization, Araku Valley in Andhra Pradesh is located approximately 114 kms from Vishakhapatnam, almost bordering Odisha. It is an enchanting hill station in the Eastern Ghats. It receives maximum rainfall from June to October, that averages at about 1700 mm. Araku Valley is home to Sunkarimetta and Anantagiri forest reserves that have a rich biodiversity and is surrounded by various mountain peaks, namely Raktakonda, Sunkarimetta, Galikonda and Chitamogondi.

Lush green Araku Valley
Image Credits: wikipedia.org