India's Ski Towns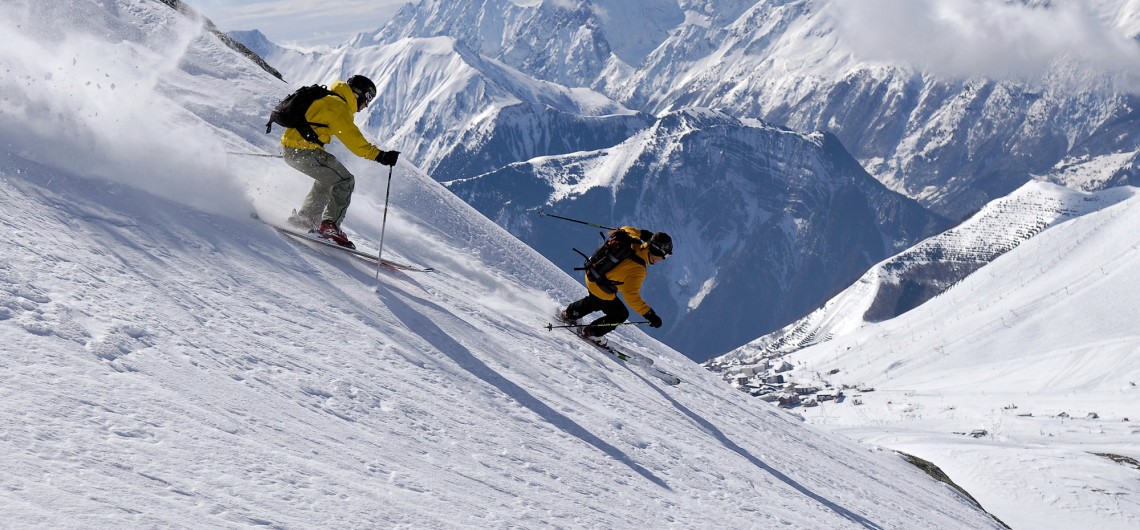 A writer by passion and profession, I spent my school days reading John Grisham, Sydney Sheldon, and Agatha Christie, and often wrote poetry that was rather solemn for my teenage years.
With one foot in the real world and another in Middle Earth, Westeros and sometimes even Westworld, I love nothing more than a good fantasy-fiction story. It provides an escape from the mundane and also a host of characters to form lifelong connections with.
Another form of escape that I quite enjoy is travelling and writing about it. The stories of people and places, when presented with an individual's unique perspective, can make quite an impact on the readers.

Latest posts by Shuchita Joshi (see all)
Skiing in India takes place mostly in the Himalayas. Owing to their great height, Himalayas make for a great Skiing destination as they offer long descents. There are 3 popular destinations for Skiing in India – Gulmarg in Jammu and Kashmir, Auli in Uttrakhand and Solang in Himachal Pradesh. Here is some information about these places and the infrastructure they offer for a great Skiing experience –
Gulmarg 
Situated on a high plateau, pastoral Gulmarg, which literally means 'Meadow of Flowers', is home to a hill station that has few parallels in India. It boasts a picture-perfect Alpine landscape, with gardens, lakes, snow-covered mountains and (when not snowed in) lush-green vistas as far as the eye can see. Gulmarg also has one of the highest cable cars in Asia – a ride here can take your breath away, literally!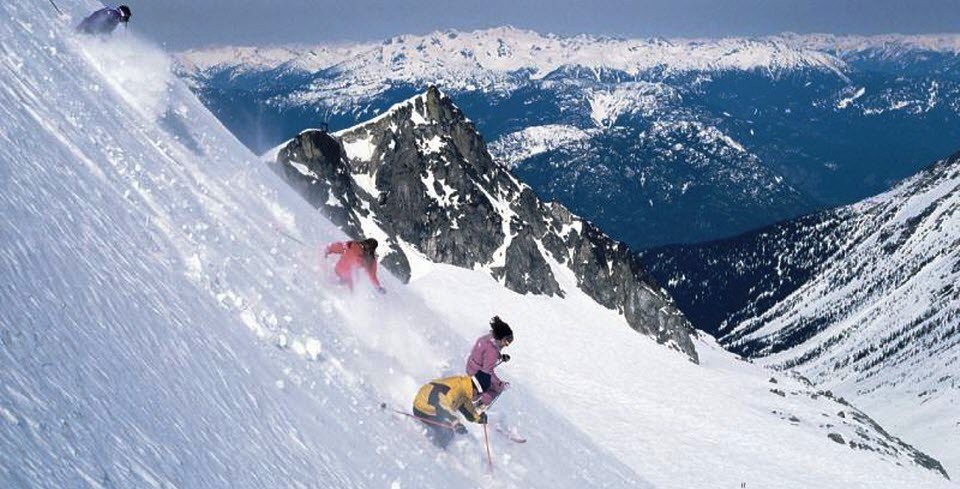 Gulmarg is India's top skiing destination (8955 ft), and consistently ranked as among the world's best. It also hosts the country's annual Winter Games. It is surrounded by dense forests of tall conifers and snow capped mountains of the Himalayas. Today Gulmarg is acknowledged not only for its scenic surroundings, but also as the world's highest golf course and a premier ski resort in the country.  
Gulmarg is conveniently accessible from Srinagar (52km); the journey takes just under two hours, in car or bus, or shared jeep. Jammu, the closest railhead to Gulmarg (304 km), is connected to Delhi by the Jammu Rajdhani.
The nearest airport to Gulmarg is in Srinagar (56km west), which has daily flights from/to Delhi. Taxis and jeeps are available to Gulmarg from the airport.
Auli 
Auli (just over 10,000ft), a small town in the Garhwal Himalayas, is a skiing destination that's under the radar yet holds much promise. Auli lies above Joshimath (13km away), a nondescript town, but one that's the gateway to the pilgrimage centre of Badrinath, and some of the finest treks in the region. It is also from Joshimath though which you enter Auli.
Auli offers grandstand views of the mighty Himalayas (including Nanda Devi) and has Asia's longest cable car at 4 km.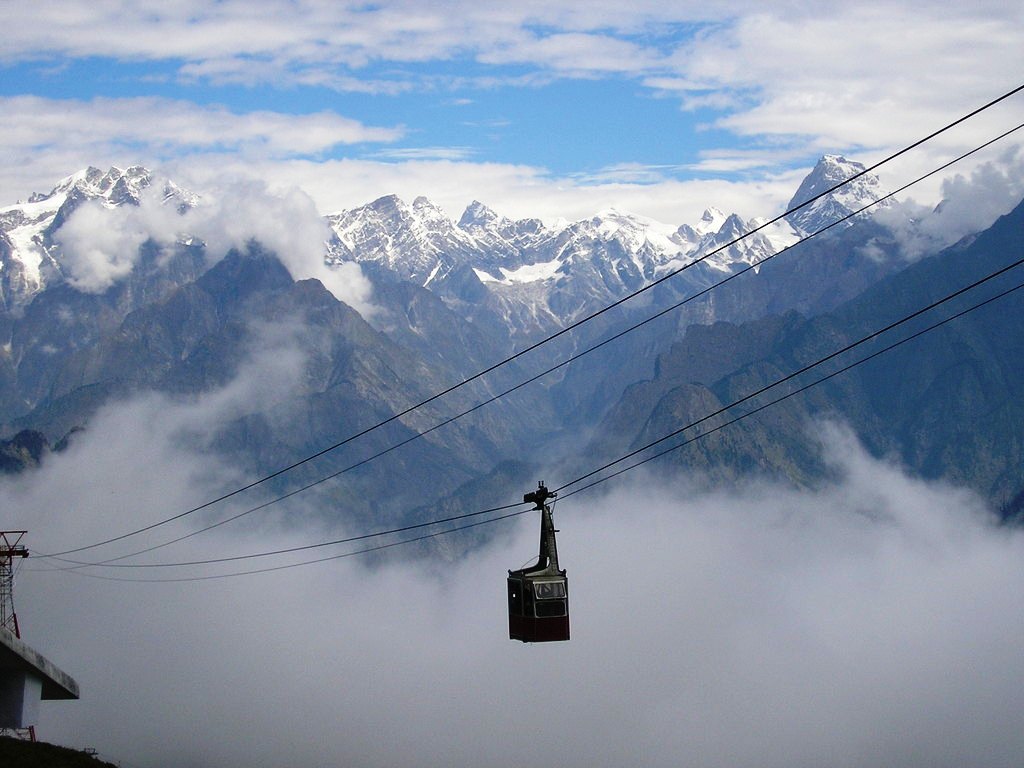 Auli provides immense opportunities for Skiing. Being covered with seasonal snow, Auli becomes an ideal place for Skiing in the winter months. With the wide open spaces above the snowline, this region offers yet another possibility – Ski touring amongst the glaciers.
The nearest airport is Jolly Grant, Dehradun, and the nearest railhead is at Haridwar. Buses (including deluxe) and taxis connect Auli from Joshimath. Buses to Joshimath run from Rishikesh (10hrs) and Haridwar (11½hrs).
You can also get to Auli by the cable car (gondola); the 4km ride up from Joshimath (8264ft, 2519m) via the ropeway takes between 15 and 20 minutes.
Solang 
Located 14 km from Manali in Himachal Pradesh; SolangValley (8500 ft) lies on the western bank of the River Beas. It has a number of hotels and other accommodation options available nearby – and also the choice to pitch your own tent! The start of international skiing competitions like the Alpine Premier League has made the valley very popular among foreign tourists.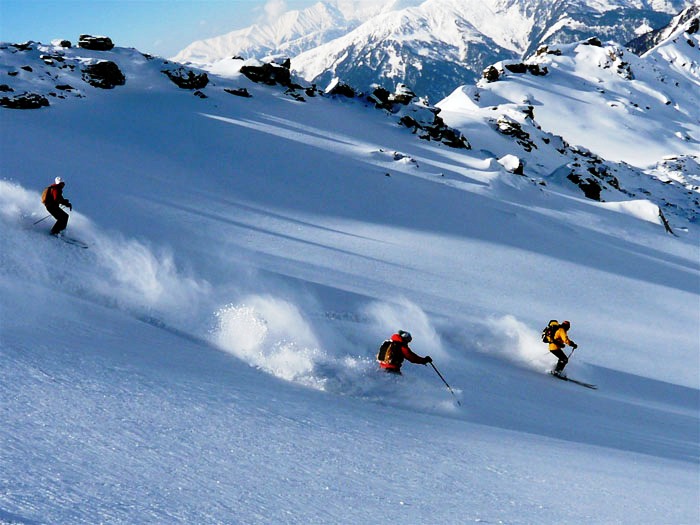 Solang boasts of a state-of-the-art ropeway that is a favorite with the tourists, and an exciting and convenient way to view the valley. Solang is well known for its Ski slopes ranging from the longest beginner Ski area in India to the extreme Black Runs for the most daring.
It is also popular worldwide for its lush greenery, apple orchards, snow-capped peaks, lakes, and, most importantly, the adventure activities it offers.
The nearest airport is in Bhuntar town, 63km from SolangValley. Pre-paid taxis are available from the airport to the valley. It can also be reached by taking a bus from Delhi and Chandigarh. Himachal State Road Transport Corporation operates a regular service from Delhi, Lucknow and Chandigarh. Taxis can be hired from Manali to cover the 14km to Solang.
Joginder Nagar (narrow gauge) is the nearest railhead (50km); other railheads close by are at Chandigarh (310km) and Ambala (300km).