Treks that will make your October adventurous
I am an engineer by education, but a blogger by choice. With a keen interest in portrait and nature photography, I never forget to carry my DSLR when on an outing or celebrating special occasions with dear ones. In free time, I love to read and write blogs, or stay busy with my kiddo.
October is a truly magical time, when the long summer days begin their transition into long winter nights. The trees shed their leaves, almost as if they are getting rid of the old in order to welcome new life. You must remember those heart-warming images, pre-installed in our computers, of gardens, almost entirely covered by reddish-brown leaves, that's the majestic autumn at its very best. This period is often referred to as post-monsoon in India. During this time, a continuous breeze blows, which may give us slight chills, but also bring pleasure to our soul.

Do you remember that famous proverb, "From small beginnings come great things"?
October marks the beginning of a long, cold winter, which is probably going to be spent on a sofa in front of the television, covered in thick clothes. It's the beginning of our transition into our laziest self. I don't know about you, but I am not ready to waste any more of my Octobers; I am going to do something adventurous while there is still time to head out before the arrival of winters; explore the bountiful nature and bring thrill to my life.
For quite some time, I have been planning a trip to the mountains, and what better season for it than this! During this time, you have the opportunity to see those deciduous trees at astonishing heights, shedding their leaves. You may also get to witness the first snowfall of the season, but only at higher elevations. Researching for quite some time, I have come across many treks that can be enjoyed during the month of October. Keep scrolling and find out the possible treks in October month.
Chandrashila Tungnath Trek – Spirituality, Vistas and Thrill
Some treks develop a reputation for the vistas they offer, and Chandrashila Tungnath is one such trail. You can imagine how beautiful the views must be on a journey which begins from the alluring city of Dehradun! From there, the trail takes you on an unforgettable ride through the gorgeous state of Uttarakhand. This 4-day venture is apt for a long weekend, to spend some exciting, adrenaline-filled time with family or friends.
One of the biggest attractions of the Chandrashila Tungnath Trek is the visit to the surreal Deoria Tal. The sight of the sky-piercing peaks of Chaukhamba, Neelkanth, Bandarpunch and Kalanag, reflected in the pristine waters of the lake, will take your breath away (metaphorically, of course). You wouldn't know where the dream stops and the reality begins.
Be it for a spiritual purpose, adventure or nature admiring, you are going to absolutely love your hike to Tungnath. There are quite a few interesting stories associated with this temple. There is a popular belief that the shrine, one of the Panch Kedar, was built by the Pandavas to please Lord Shiva. From the small settlement of Chopta, the temple is only a pleasant climb away. Not just the shrine, but its idyllic surroundings will also leave you spellbound.
The hike will further take you to the summit of Chandrashila. From the altitude of over 13000 feet at the peak, you will see Uttarakhand like never before. The whole magnificence of its landscape will unfold before your eyes as you will look down on it from that height.
Though the trek can be enjoyed anytime of the year, I believe October is a great time to come here before the December snow, which can make the venture a bit more challenging. For me, the best thing about this trek is that it's not too challenging; therefore, I can take any of my lazy friends or maybe even my brother on this journey.
Har Ki Doon Trek – To a Serene Valley amidst Gigantic Mountains
The Har Ki Doon Trek is another opportunity for you to discover the majesty of Uttarakhand, and this trail will also give you more time to do so than the previous one. This 8-day itinerary takes you to an altitude of roughly 11675 feet at its highest point. The beautiful Har Ki Doon valley lies at the foothills of Fateh Parvat. The adventure begins from the small village of Sankri. At this point of time, you would be inside Govind Pashu Vihar National Park and Wildlife Sanctuary. The expansive territory, which sprawls over almost 1000 sq km, is one of the last refuges for snow leopards. But, even if you don't spot a snow leopard or its footprints, there are good chances that you might get a glimpse of a musk deer, brown bear or tahr. Pack your binoculars if you want to catch a bearded vulture, golden eagle or Himalayan snowcock in action.
The scenic trek takes you to many quaint villages, some of them uninhabited. The trail may go uphill or downhill and through lushness or barren land, but one thing that never changes from the beginning to end is the enchanting views. From the time you begin this journey from Dehradun and till the time you end it back here, it's like views of snow-capped peaks are accompanying you on your adventure.
Would you believe me if I said that this excursion also takes you to a glacier?! Yep, it's true. This journey will take you to the massive Jaundhar Glacier, which is about 55 sq km in area. I know it's not the biggest glacier you will ever find, but it is still as fascinating as they come. While on the sojourn, remember to take selfies against the backdrop of the behemoth, Swargarohini Peak, which kisses the sky at over 20000 feet.
Mojidugh Trek – Perfect to Learn Trekking over the Weekend
The Mojidugh Trek is the perfect way to learn trekking amidst the beautiful peaks of Himachal Pradesh. I seriously cannot think of a better trail for first-time trekkers. Mojidugh is a short and easy trek, and only takes you to about 10500 feet; so that minimises the chances of altitude sickness as well. This is a great option for amateur trekkers to spend quality time with friends and family, exploring the Himalayas.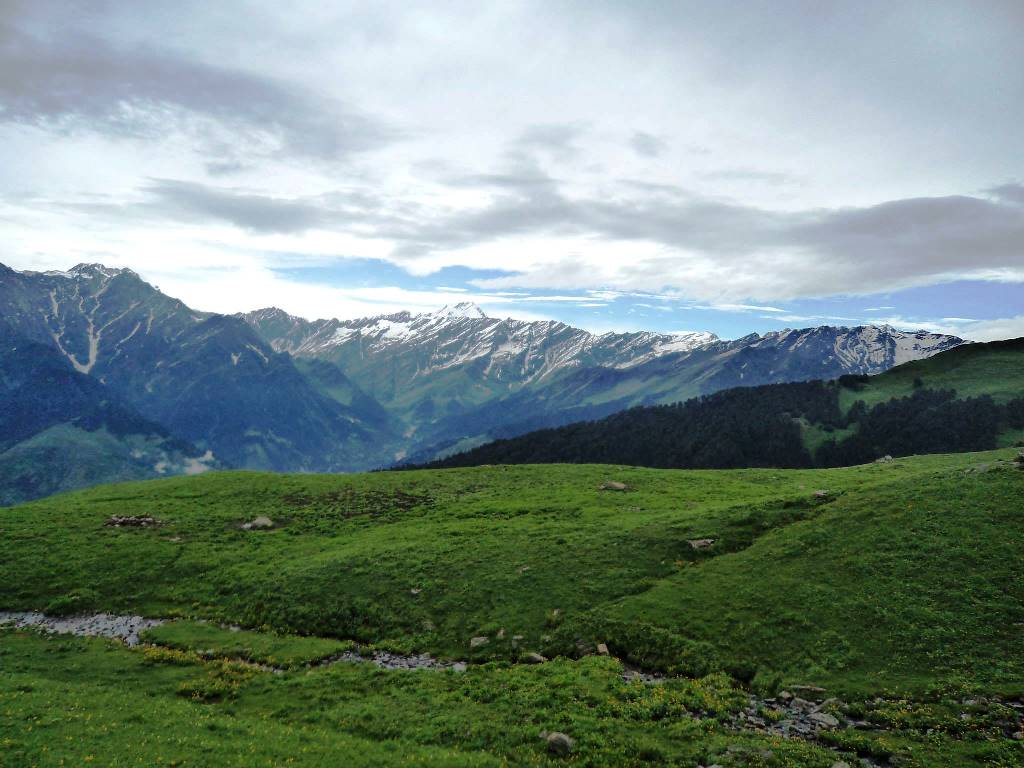 The trek might be easy and it might only take you to a moderate elevation, but it doesn't, in any way, lag behind in terms of views. The sceneries you can admire on this trail are just as stunning as on any other trail, which might be taking you to 15000 or 20000 feet above sea level. The view of the Beas River with high peaks on all its sides will surely make you fall in love with the place, and the thunderous sound of the aggressive water of the river, smashing on rocks, will be a treat to your ears.
The cold, crisp Himalayan breeze, which could give anyone chills, will be your companion on this tour. Are you wondering if this trek has camping, considering that it is only 2 days long? Yes, absolutely! What trekking excursion doesn't involve camping?! You will get the true feeling of being on a nature tour, when you will be sleeping in your camp in the middle of a forest. You might be exhausted from the trek, but just gather some strength to move out of your camp to get a picture of the star-lit sky. Such clear skies are only visible from special places like this.
A treat for all senses, the trail takes you through thick jungles of deodars, pines and oaks. Take in the aroma as a souvenir of the amazing time you have on the trip.
Bali Pass Trek – A Tough and a Tougher Journey
No doubt, the high passes of Ladakh have a reputation all over the world, and that's why the region is called the Land of High Passes. Not as high as Ladakh, but there are plenty of mountain passes in Uttarakhand too, and one such spot is Bali. From the summit of the pass, which is situated at an altitude of over 15000 feet, the views are undoubtedly mesmerising. There are two routes to the pass, and neither of them is easy. While the first and less-challenging one takes you past the scenic Ruinsara Tal, the second and the more difficult one takes you via the even higher Dhumdharkandi Pass.
The trek, which goes past the beautiful lake, follows an old trail, connecting the Tons River Valley to the Yamuna Valley. Beginning from Sankri, the trail takes you to the expansive Govind Pashu Vihar National Park and Wildlife Sanctuary. Here, you have the perfect opportunity to spot a snow leopard, brown bear and regional birds.
The second trail is a lot more difficult than the first and will take you on steep slopes and across rivers. In a way, you can say it's a true trekker's trek. However, as hard as the trek is, equally beautiful the sights are. Long, strenuous walks pay off with enthralling vistas of lush grasslands. Sharp ascents lead to fascinating views of snow-capped peaks. On this trail, you will also get to traverse the intriguing Bandarpunch Glacier. Now, that's some challenge!
The two treks do have some things in common like the visit to Yamunotri, and they do have a lot of things that are unique to them, but no matter which of the two routes you choose, you are guaranteed two things, ultimate thrill and pleasant memories.
I came across many itineraries while searching for treks to enjoy in October, and these four caught my attention. I think I am equally fascinated by each of the four, but will have to pick one. But, who cares what trek it is?! I know it's good, and most of all, it's trekking in October. Think about it!