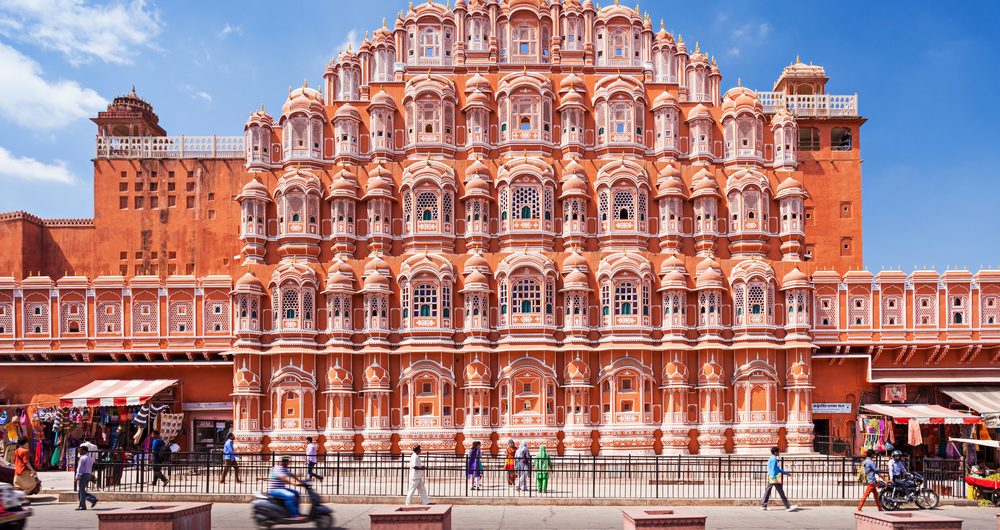 Somewhat incorrectly known as the Pink City, Jaipur is one of those places which offer a unique experience for all kinds of travellers.  Founded way back in 1727, the city, over the last few decades, has become a major tourist destination hosting visitors from all the different corners of the world. Although a major chunk of travellers visit the city to explore the centuries-old monuments and the state-of-the-art museums, there is a plethora of other experiences that one might indulge in. The state capital of Rajasthan is known as much as for its glorious architecture and historic structures as it is for its decades-old handloom markets and richly diverse food. Apart from its historic relevance, the city has also gained immense popularity as a global hub for cultural and literary gatherings, making it all the more prominent amongst international travellers.
Explore Hot Air Balloon Rides at Jaipur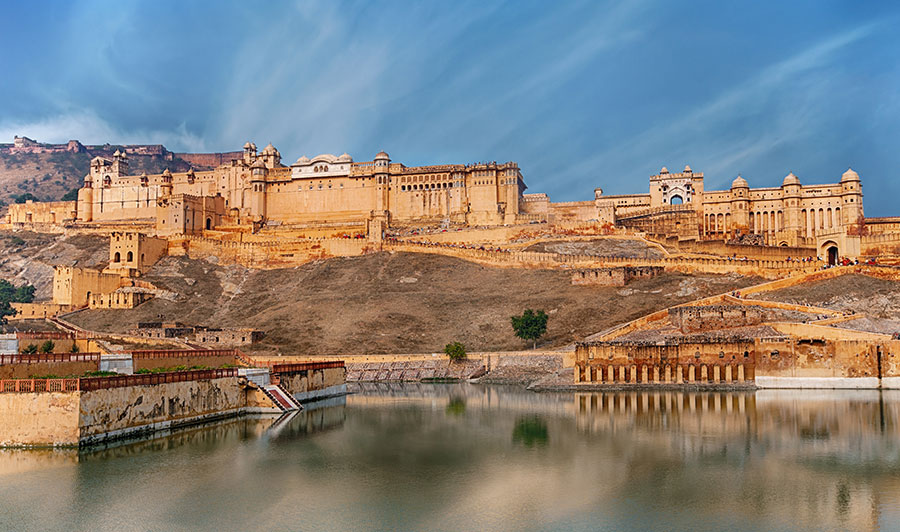 Being one of the most well known historical cities in all of India, Jaipur would always be the first choice for a school trip for folks in North/Central India, including mine. It was during one of those trips, that I developed a fondness for the city and kept travelling there rather frequently as it was just a four-hour drive from my place in rural Gurgaon. Now, as much as I enjoyed frequenting the city's touristy sights, I would always try and seek out novel experiences. That would mean – trying out a new restaurant, discovering a new sunset-spot, checking out an authentic Manganiars music gig etc. But even after exploring most of what the city had to offer, I still felt eluded of that one extraordinary experience that was completely unmatchable to anything I'd already done.
Explore Hot Air Ballooning in Rajasthan
Although it took several visits, I did, eventually, end up having that experience on my most recent visit to the city during the autumn of 2019. That experience was floating over the Pink City in a tiny wooden basket – yes, I'm referring to a Hot Air Balloon ride. The activity was first introduced to Jaipur a few years ago and since then it has become a major attraction for people looking to explore the city's surroundings in a unique manner. Of course, the idea of catching a bird's eye view of the already-so familiar-landscape always seemed very enticing to me so I, along with a few of my colleagues at Adventure Nation, decided to drive to Jaipur in Sep-19 to encounter that thrill and tick that item off my bucket list. So, here goes!
Know more about Hot Air Ballooning in India
Sep 21st – With Wake Me Up by Avicii playing on the radio, we hit the road on a pleasant Saturday morning. The four-hour ride from Gurgaon was quite uneventful as we managed to cruise through our entire journey with just a couple of loo breaks. By the time we arrived at our hotel, the pleasant morning had turned into a lousy afternoon and the mutual agreement was to have a quick lunch at a lovely little restaurant nearby and then nap for a couple of hours. Yeah, we drove four hours to take an afternoon nap in a hotel room!
Must Read: Reasons To Go On a Hot Air Balloon Ride in Jaipur!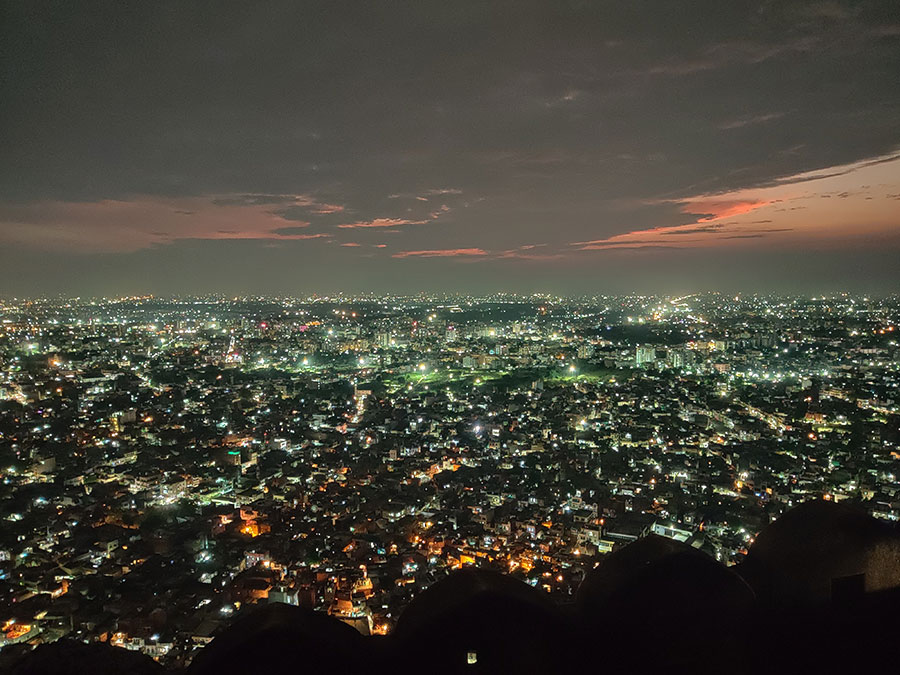 A quick shower and we were all set to visit my favourite place in the city – The Nahargarh Fort. Driving uphill on the gorgeous Aravalli terrain with sun setting behind the dense grove of trees – the Ralph Waldo Emerson saying 'It's not the destination, it's the journey' never felt more accurate. In all fairness, the destination wasn't all the bad either. The fort, overlooking the entire city, is a marvellous piece of architecture and engineering. During the dusk hour, the panoramic view of the city from the top of the fort was just mesmerizing. The entire city seemed to be basking in the glory of the starry landscape that the thousands of lights had created. After a couple of drinks at the rooftop cafe, we made our way back to the hotel. Although dinner was a low-key affair at the hotel restaurant, the after-dinner-walk on the scenic Jal Mahal walkway took its sweet time. It drizzled a little during our walk which only made the night more beautiful. Against our wish, we had to call it a night around just after midnight for what awaited us the next day had to be commenced before dawn.
Must Read: Hot Air Ballooning – Fun Facts!
A few alarm snoozes and we were up and running. We were picked-up from the hotel around four thirty and were driven to the take-off site which was a secluded open area behind the well known Amber Fort. Until now, all I had anticipated was a big balloon taking us up and then down but after arriving at the take-off site I realized that there was more to it. After getting acquainted with one another, our pilot did a wind-test to check whether it was safe to fly or not. Fortunately, the weather was ideal for flying. Imagine what a shame it would have been had the weather played its dirty little tricks that morning.
While sipping our teas and coffees, we watched the balloons getting inflated which, I must say, was rather exciting (and noisy). The massive carpet like stuff soon developed into a towering balloon shape structure which was going to be our ride into the clouds! The inflation process was followed by a thorough safety briefing by our pilot. Post the briefing, we were taken to our respective balloons and the boarding process started to begin. Although there are various kinds of baskets having the accommodation capacity ranging from two people to a group of twenty people, we were assigned with a small-sized basket that could accommodate up to eight people at one point in time. That worked out perfectly for us as I occupied one section of the basket along with my three buddies. Another group of people had settled in the other section of the basket while our Australian pilot took a firm stance in the centre.
It was time for action. The first major burst of the propane burner and we slowly started gaining some altitude. Although the burner sound was a little loud, it wasn't distracting enough to startle any of us as we admired the sheer ease with which the balloon kept getting us higher every passing second. A few minutes into the flight and we were already floating high enough to sight the extraordinary Amber Fort on our right. Although we could only see a portion of the enormous structure, it looked absolutely terrific from up above. No wonder, even half-decent drone shots look amazing!
A few minutes into the flight and we started floating away from the densely populated zone to the gorgeous countryside of the city's surrounding areas. As we moved deeper into the countryside, the landscape kept getting greener and prettier. Although it was mid-September, there was a nip in the early morning air, probably because of the two thousand feet altitude that we were flying at.
'Oh the conditions today are probably the best I've seen since I've started flying in India' replied our pilot in a thick Victorian accent, after someone from the other group had asked him about the weather that day. It really was a serene morning and the visibility was just phenomenal. While our seasoned pilot was sharing his experience of Hot Air Balloon-ing all over the world, the sun started to peek from behind the Aravallis and it just enhanced the entire experience by a hundred folds. Now, everyone who knows me is well-aware of my love for sunsets but that sunrise filled, inside me, a transcendental energy that I had never experienced before. It was surreal!
Just half-way into our ride and we had already flown over several scenic villages. While flying over a tiny village, our pilot made sure that we flew relatively lower so that we could catch a glimpse of the rural-life. Surely, the people on-board wanted to witness the villagers go by their business, but the folks on ground seemed more excited, after spotting a giant balloon flying over their terrace. Every member of the household, including the young and the elderly, came out in the open and waived at us. We waived back at them with both our hands and all our might. Even the cows were mooing, but we couldn't be sure whether they were saying howdy or telling us to fly away from their property. My city-friends got rather animated after spotting a herd of sheep in someone's backyard. I ignored them.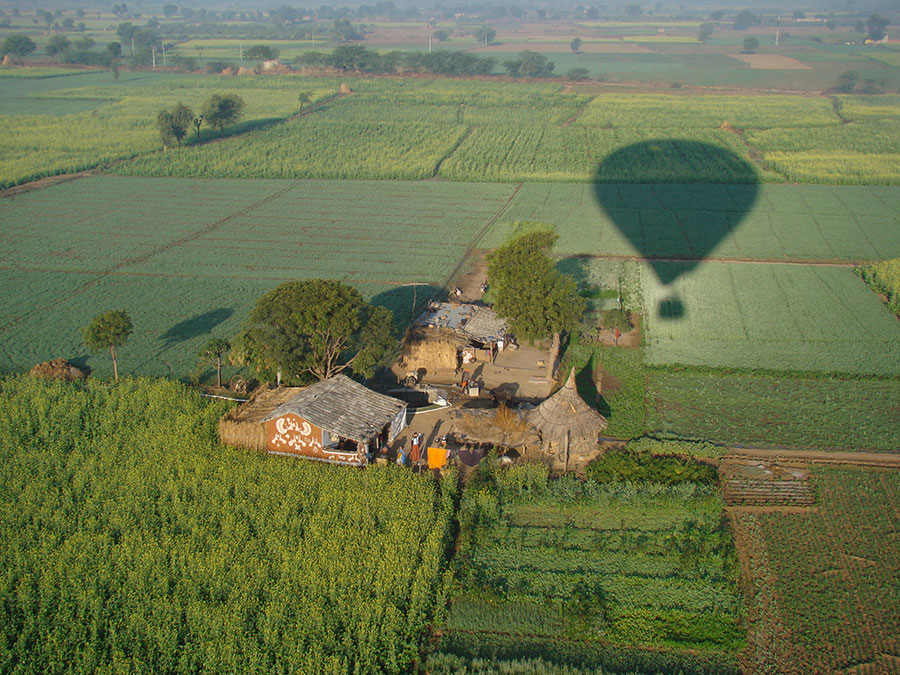 After cruising through for almost an hour, it was time to land. 'What's the landing location?' I asked the pilot, expecting him to point me towards a specific location. His response, 'Oh, let me figure it out' was quite interesting I must say. Although a bunch of villagers were very welcoming in asking (read screaming from way down) us to land in their respective fields, the pilot had to make sure that the location fulfilled the criteria. While searching for the ideal landing spot, we were being tracked by the vehicles that would eventually be our ride back to the hotel. So after flying low for a couple of minutes, we managed to land on a wide-open ground with no trees and a village road within close proximity. Customary pictures were clicked as we got our first flight certificates from our pilot. I gave my certificate to a village kid as he wanted a picture with that but for some strange reason I never took it back. Good for him I suppose. The selfies, clicked by my friends, were already getting posted on social media as we strolled towards the SUV, parked less than a hundred metres away.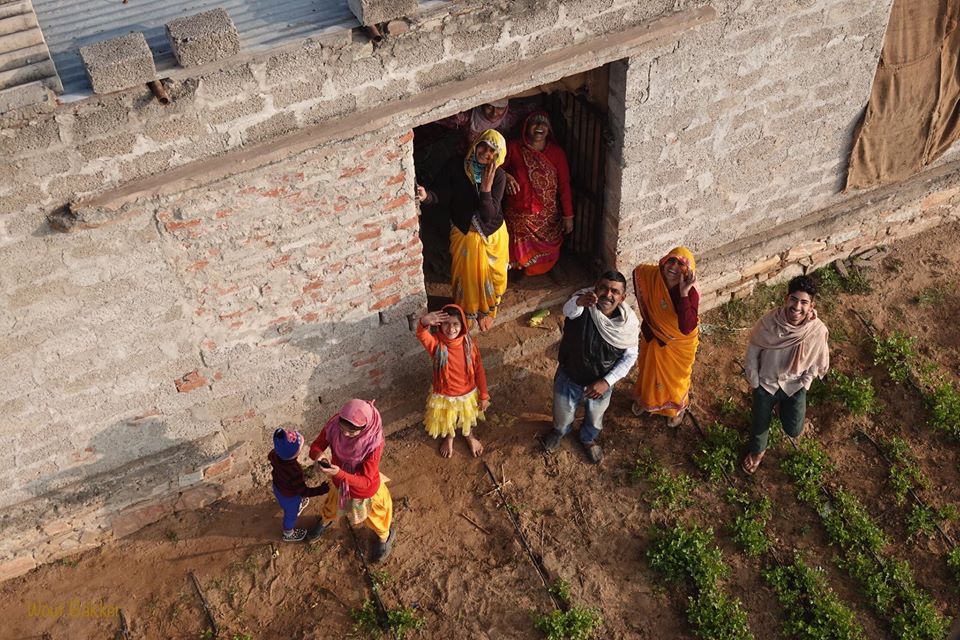 Absolutely beat because of the hectic twenty-four hours that we'd had, all four of us slept throughout the sixty-minute ride back to the hotel. It was only after some coffee went down my throat that I realised what a monumental morning it had been. 'Lifetime Experience' is a phrase that, I feel, gets loosely thrown around by people, but it truly felt that way for me. We ate our way throughout the breakfast buffet and checked-out a little later. As, I Want To Break Free by Queen played on the radio, we started making our way back home.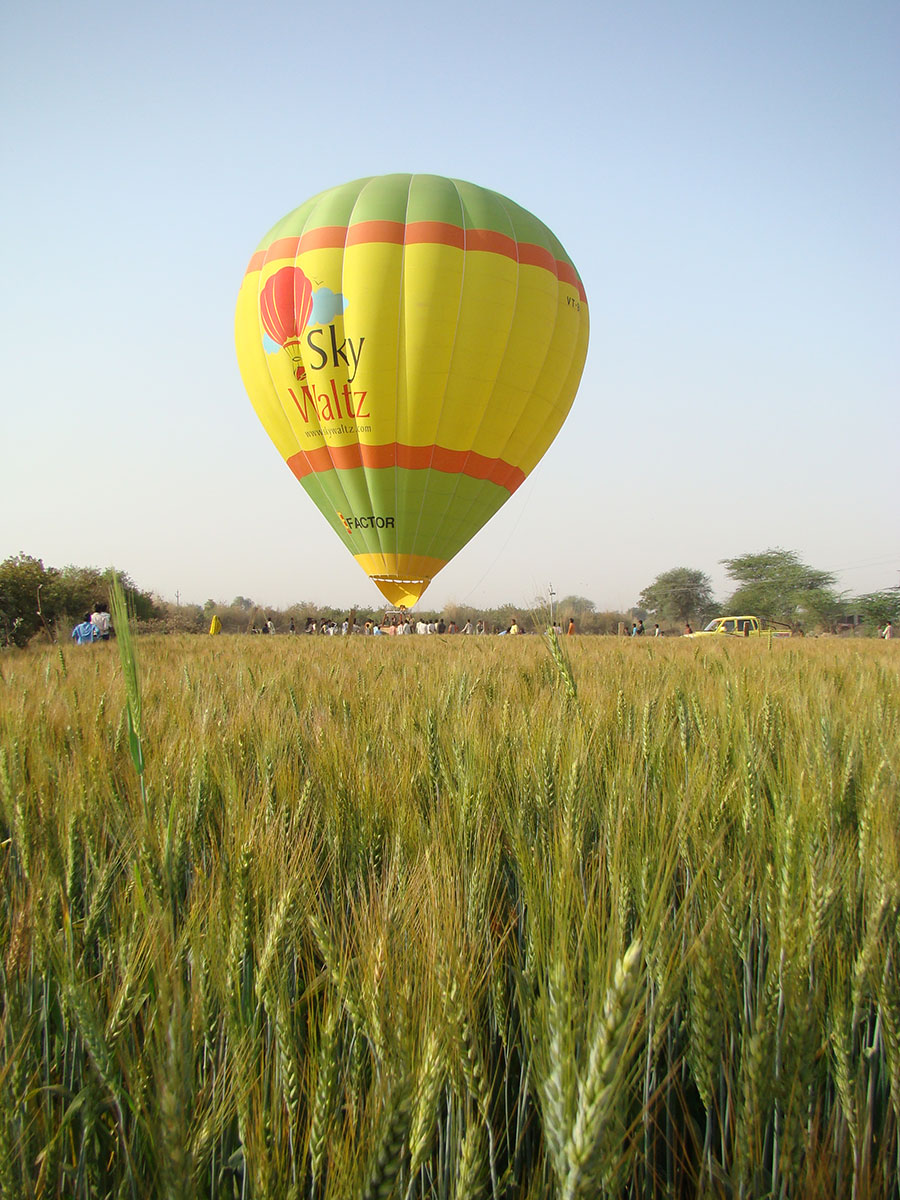 Note – Although this is the perfect adventure for a group of friends or family, you would definitely have a far more satisfying experience if the people around you aren't always snapping pictures and video-chatting with their folks back home, while you're trying to witness that majestic sunrise.